A few weeks ago, the Yazing shopping portal appeared on my radar when they began offering 2% cash back at giftcards.com. I placed several gift card orders and subsequently received tracking notices from Yazing. Shortly after this, a few readers brought Yazing's terms to my attention, which specifically prohibited manufactured spending activities from earning cash back:
"Yazing reserves the right to withhold payments to any member who is fraudulently using the platform, abusing or gaming the platform, or suspected of manufactured spending. Should you be rewarded for merchandise that is subsequently returned or charged back, you will be billed for and are legally obligated to return those rewards."
This had a lot of folks worried and I personally began using iConsumer for my Giftcards.com orders to avoid potentially losing out on portal payouts. Yesterday, Yazing's Founder, Adam Viener, reached out to me via email. He explained that the manufactured spending restriction had been removed from Yazing's terms. There was some misunderstanding about the nature of manufactured spending that has been cleared up. More importantly, he assured me that all tracked transactions would be earning cash back: 
We love ALL our members and will pass through 100% of the commissions that we are paid for from GiftCards.com.  If they are happy to pay the commissions on the transactions we are happy to provide those commission to our members!
It was great to get this assurance that they would in fact be paying out cash back on tracked transactions. As a reminder, Yazing passes on 100% of the commission to members, so they don't actually earn anything from our purchases. Instead, they rely on members to share their affiliate links to improve the company's search ranking. So if you have a Yazing account, sharing your customized affiliate link on your blog helps Yazing rank higher. They've been generous with their cash back offers, so I'm happy to support them. I encourage you to do the same. At the moment, they are offering 1.5% cash back at Giftcards.com, which is the same amount iConsumer is offering. 
Other than Giftcards.com, Yazing offers competitive rates at thousands of popular merchants. They don't show up on the first page results of Cashback Monitor, so be sure to check Yazing's website for cash back rates and share customized merchant links online. You can find your customized link next to each merchant listing when you're logged in.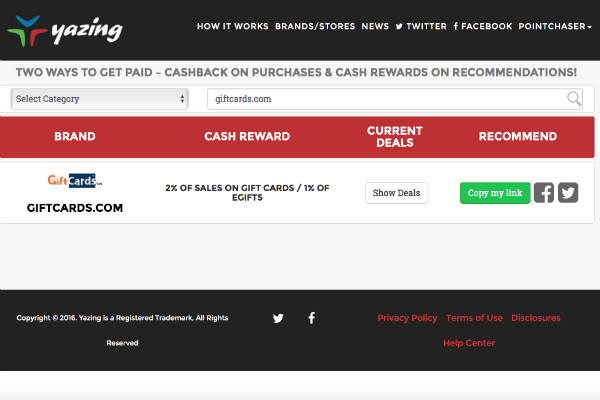 So there you go. It's still safe to shop at Giftcards.com through Yazing without worrying about losing cash back on tracked purchases.
Subscribe to Blog via Email