Update: I've adjusted this post to reflect the fact that the cash back rate hasn't increased for GiftCards.com but rather GiftCardMall.com.
Yesterday I wrote about finally receiving my first cash back payout from iConsumer, which took about four months. Some people commented with their own negative stories of their transactions not being tracked or other reasons for why their Giftcards.com purchases were ineligible for cash back. If you're in this boat, you'll be glad to know that Yazing has been more reliable in terms of tracking giftcards.com purchases and responding to inquiries about unpaid purchases. This is especially relevant now that both cash back portals have increased their giftcards.com payouts to 1.5%.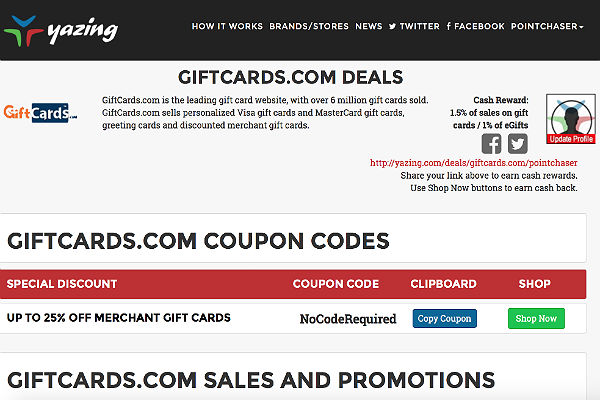 The great thing about Yazing is that it takes them just around 30 days to pay out cash back earnings. That's super fast compared to iConsumer's 90+ days. This is about as fast as cash back portal payouts get and the reason why I'll continue using Yazing for giftcards.com orders. When you're churning large amounts of gift cards on a regular basis, the gift card and shipping fees add up substantially. Most of us float the cash until shopping portal payouts are issued months later, but being able to receive the funds a little over 30 days later is extremely convenient since it means you don't have to float the cash spent on gift card fees for very long. 
For those of you wondering how the out of pocket cost turns out with the higher 1.5% cash back rate, here is a breakdown on a $2,500 gift card order (the daily maximum, with fees factored in):
Gift Card Fees: $6.95 x 5 = $34.75
Shipping fee: $7.45
———————————–
Total fees: $42.20
– Cash Back Earned: $37.50
———————————–
= $4.70 out of pocket for a minimum of 2,500 points or miles
Factor in liquidating fees and it still works out around 80% cheaper than buying gift cards at a local mall. Be aware though, that some people have reported arbitrary order cancellations. I've also gotten a report from a reader who got banned from giftcards.com. I haven't received a response about what may have caused the shut down (i.e. too many orders, too many different forms of payments, declined payments, etc.). I'll provide an update when I get a definitive answer about this. 
1.5% Cash Back at Gift Card Mall
Yazing recently increased the payout at Gift Card Mall to 1.5% Cash Back. Gift Card Mall charges a $5.95 fee per $500 gift card plus a $10 shipping fee. Just like the Giftcards.com cards, you can add names to these gift cards and there's no $2,500 daily limit. It's important to note that not all Gift Card Mall cards will be PIN-enabled Metabank cards. Some will be issued by Sunrise Bank and thus PIN-less. So it's a bit of a gamble and I wouldn't recommend placing an order (large or small) unless you have an alternative for liquidating them.
For what it's worth, I placed a $3,500 order a week ago and the cards arrived recently. All of them were issued by Metabank and PIN-enabled. Let's break down the fees on a $2,500 order:
Gift Card Fees: $5.95 x 5 = $29.75
Shipping fee: $10.95
———————————–
Total fees: $40.70
– Cash Back Earned: $38.11
———————————–
= $2.59 out of pocket for a minimum of 2,500 points or miles
This is a great opportunity to stock up on points and miles (or maybe cash back) at a substantial discount. These days, I'm largely focused on cash back. However, when offers like this come around, it's a great opportunity to bulk up on valuable points at a relatively low cost. I try to rotate my cards and work in cash back too, but flexible currencies are my priority right now. At the moment, I don't have any specific plans, but I would like to work in a trip to Cancun or Costa Rica in December.
For next year, I'm planning a trip to Europe, Asia, and the Middle East for my entire family. That will include my older sister, brother-in-law and their brood. They've been collecting points and miles for a couple of years now. This will be their first big redemption and I want them to be seriously blown away. 
All of this will require a lot of points and miles, not to mention advanced planning. I'm seizing every opportunity to reduce out of pocket costs while collecting valuable miles that will get us all where we need to go.
Subscribe to Blog via Email