Update: As of September 2014 most shopping portals have either pulled or reduced the Amex gift card denominations eligible for cash back. As a result, the information in this post is no longer relevant.
I get tons of questions about my manufactured spending habits, specifically about why I choose to buy American Express Gift cards, convert them to PIN-enabled Visa gift cards, then unload them via Redbird or money orders. Why not just purchase Visa gift cards directly with a mile-earning credit card? There are several advantages to making this process slightly more tedious by involving Amex gift cards: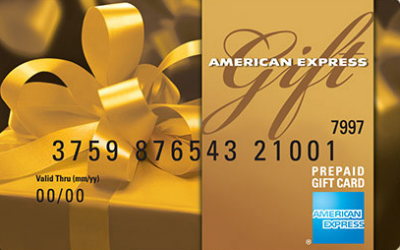 1. Reduced Expenses. PIN-enabled Visa gift cards don't come cheap: Fees range from $3.95 – $5.95 per $500 and if you're buying large quantities like I am, that ads up to substantial out-of-pocket costs. By purchasing Amex gift cards through a cash back portal like Extrabux, I can off-set the majority of the cost with the (current) 1% cash back I earn on Amex gift card purchases. For me, $10,000 worth of Visa gift cards cost $119. By opting to purchase Amex gift cards through a shopping portal, I earn $100 cash back. So when I do eventually convert those gift cards to Visa, my out of pocket cost is reduced to under $50. By incorporating Amex gift cards into my churning strategy, I'm cutting my manufactured spending cost in half.
2. Efficiency. For some reason, my $10,000 American Express gift card orders never get declined by any credit card issuers, but if I try to purchase anything over $500 at a store, I get an annoying fraud alert from my bank. Some banks require a quick text message to straighten things out. Others want a long, drawn out phone conversation before allowing me to proceed with my purchase. It makes the gift card churning process much less efficient. I know what you're thinking: Even if you buy $10,000 worth of Amex gift cards at once, don't you still have to spend a significant amount of time converting them to Visa gift cards? Yes, but I do it for much cheaper thanks to the cash back I earn via shopping portals. And I don't have to deal with interruptions from the bank. 
3. Large Point Balances in Less Time. Sometimes I want to see a substantial increase in my Barclay Arrival Miles balance and the only way to do that is with an easy $10,000 Amex gift card order. Yes, I could hop from store to store and accrue $10,000 worth of Visa gift cards. But as I've explained above, it would not only cost more and involve a lot of fraud alerts, it would be a while before I'd see the full 20,000 Arrival Miles in my account. It may seem like a silly reason, but I like to see large balances post to my Arrival account. Buying Amex gift cards helps me do that.
These are my main reasons for incorporating Amex gift cards into my gift card churning strategy. It's not any more tedious than buying PIN-enabled Visa gift cards with a credit card but it does save me over 50% on gift card fees.
Do you include Amex gift cards in your manufactured spending strategy?
Subscribe to Blog via Email