4/2/14 Update: CVS will in fact be implementing a cash-only policy nationwide on April 4, 2014.
I took a break from my self-imposed internet fast this morning when Tim sent me the following message and picture on Twitter: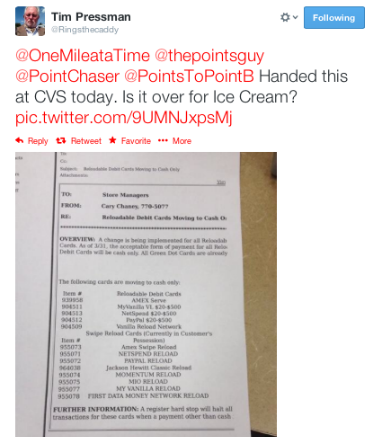 For those of us picking up our second, third, fourth, of fifth Citi AAdvantage Executive card, the idea of Vanilla Reloads going cash-only is pretty terrifying. My thoughts on this are as follows:
1. Regional vs. National Policy. First, I'm hoping this is simply a regional change. About a year ago, my local CVS implemented a cash-only policy as well. I've been to CVS stores around the South Bay Area and gotten the disappointing "cash only" line over and over again. Those stores got this memo a long tim ago. Hopefully, this is simply a memo sent to that particular region. In my case, when my local store stopped stocking them, I simply drove to the next town and found a new source.
2. Plan B. If CVS stores nationwide do implement this policy, there are some simple solutions. Cut CVS out of the equation altogether and either buy Visa gift cards online or at your local grocery store. The fees are usually $3.95-$5.95 per $500 card, so you're not paying substantially more to earn the same amount of points.
One of my preferred method of churning is to buy Visa gift cards at GiftCardMall through Extrabux if the cashback payout is decent. These gift cards can be loaded onto Bluebird, making them a good alternative to Vanilla Reloads. Another way is to buy Amex gift cards through Big Crumbs, then use those to buy Vanilla Reload cards. If Vanilla Reloads go away, I'd just buy Visa/Mastercards instead and either load those onto Bluebird or cash them out via money orders. [Update 4/9: Extrabux is no longer offering cash back on Visa gift cards.]
If all else fails, you can always trade in your Bluebird card for an Amex Serve and load that directly with your mile-earning credit card. There are plenty of other ways to generate miles from prepaid, reload, and gift cards. If none of this rings a bell, check out the Newbie Guide to Manufactured Spending for an overview of manufactured spending and the cards involved.
We've experienced shut downs before: Netspend shutting people's accounts down, Office Depot no longer carrying Vanilla Reloads, then taking Amex gift cards off their shelves, CVS stores changing their limits on Vanilla Reload purchases constantly. It's a never-ending roller coaster. The good news is more opportunities will present themselves and the key is to adapt.
Disclosure: The Extrabux and BigCrumbs links in this post are my referral links. I will earn a small commission if you sign-up with my links and/or make purchases.
Subscribe via email for more points, miles and free travel