UPDATE: Shopkick is no longer offering kicks for spend. The option to earn kicks for scans and walk-ins is still available.
A few weeks ago I wrote about how to meet $40,000 in spending requirements next month. In it, I outlined some possible ways to generate lots of manufactured spend. One of them involved reloading the Amex for Target prepaid card, which is one of the most expensive ways to generate spend. Each $1,000 load comes with a $3 fee.
Though Amex allows one free ATM withdrawal per month, ATM owners impose their own fees. Costco has a low $1.25 fee per withdrawal. If you were to go this route, it would cost $8.50 to load and withdraw $1,000 (Breakdown: $3 in reload fees, $2.50 in withdrawal fees from Costco, one $3 withdrawal fee from Amex). That is more than the $7.90 most of us pay with Vanilla Reloads.
Recently, Michele from Miles, Points, and Mai Tais told me about a way to decrease the fees associated with cashing these cards out. In involves Shopkick, an app that rewards shoppers for a variety of activities: Checking in at participating stores, scanning select items, and shopping. She has a great write-up where she explains in detail how it works and how you can triple dip and earn money by using the app.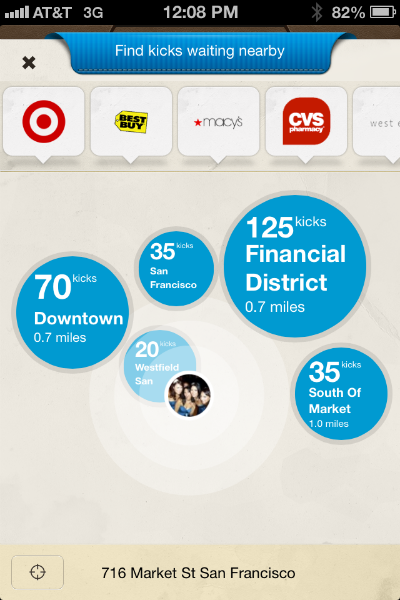 Target participates in Shopkick. Not only do you earn an easy 35 points for walking into a store, but you'll also earn points for shopping (aka reloading your Amex for Target card) once you link your credit card to your ShopKick account. If you sign up using a referral link, I believe you get 50 bonus points to start. Feel free to share your own link in the comment section to earn a 50% share of the bonus points earned by your friends.
Points can be redeemed for different prizes, including designer handbags (75,000 points), noise-canceling headphones (81,250 points), giftcards (starting at 1,250 points), Ritz Carlton giftcards (starting at 6,250 points for $25), and more. According to Michele every 500 kicks is equal to $2 in rewards.
I recently loaded $1,000 on my card and earned 750 points. Combined with my walk-in bonus, that's 785 points. Basically, I earned about $3 in rewards, canceling out the the $3 reload fee.
My parents both have Amex for Target cards. I can start reloading these, bringing my monthly total to $15,000. The monthly cost of reloading and cashing  out will be $127.50. I will earn back about $45 in giftcards and over 15,000 points. This brings my total out-of-pocket reloading cost to $82.50. Not bad for 15,000 points! If I do this for 12 months, I will earn 180,000 points for $990 – that's enough for two Business class trips to Asia (with a stopover in Europe) for $495 per person. I'll also have $540 worth of giftcards.
If I decide to go with the Ritz Carlton giftcards, I can use those for hotel stays, earn more points and elite status on those stays, use the points to redeem future stays….it goes on and on!
Are you using Shopkick or any other apps to double or triple-dip? Please share in the comment section.
Subscribe via email for more points, miles and free travel