Sometimes I wish Hilton would run fewer promotions and instead offer lower award redemption levels, but that pipe dream won't come into fruition, so let's get excited about the possibility of earning more points.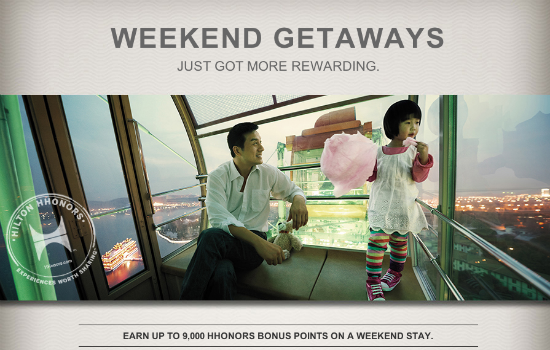 The Weekend Rewards promotion offers the following bonuses:
1,000 bonus points per night

An additional 5,000 points for every weekend stay of two nights or more.
Weekends are defined as Thursday- Sunday, and you can participate by registering and staying between February 1 and April 30, 2014.
There aren't too many hotels not participating in the promotion outside of the US. Within the US, the list is long, but largely consists of random hotels I'd only recommend for mattress running purposes. In big cities like San Francisco, hotels like the Hilton SF Financial district are participating, while two airport hotels aren't. Sounds fair enough.
This promotion is far from mattress-run worthy, but combined with the Flash Sale I wrote about yesterday, it's a nice bonus if you were going to stay at a Hilton anyway.
Subscribe via email for more points, miles and free travel