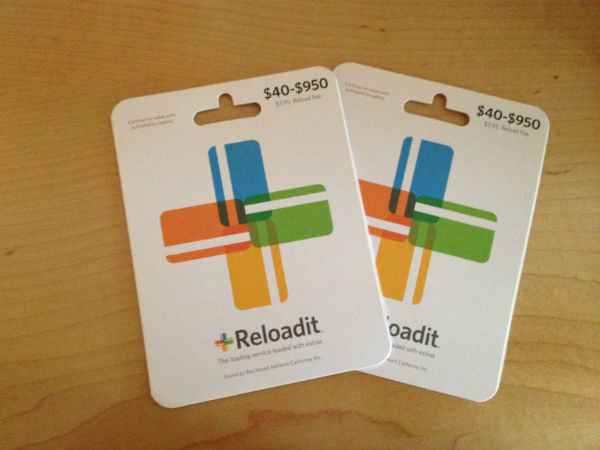 Update: As of November 22, 2014 Simon Mall gift card fees have increased to $3.95
My initial prediction about my trip to the South Bay being a dud turned out to be unfounded. This is largely thanks to readers who shared their manufactured spending sources with me. I came away with some viable alternatives to Vanilla Reloads which either have been off-limits where I live, or I was simply oblivious to. Here is what I found:
1. ReloadIT cards. First, Nagi filled me in on a place that accepts credit cards for $950 ReloadIT cards. The place also had $0 fee Paypower cards, but those had "cash only" stamped on them and the cashier wouldn't take credit cards. However, she pointed out that I could buy Visa, Mastercard, and American Express gift cards with a debit card. What about credit? "Yes, you could do that if you wanted to." She did have to do an override to get the transaction processed, but this consisted of swiping a card, which was quick and easy. In all, I walked out of there with $2,400 in gift cards at a cost of $13.85.
This isn't going to work everywhere, but it's worth a shot to try buying ReloadIT cards at your local gas station or grocery store. I've tried different stores up and down the East Bay and Sacramento until I lucked out. When you factor in a credit card with a category bonus, the points really add up and at an even lower cost.
2. Gift Cards at Simon Malls. Reader, bmau09, alerted me to another Vanilla Reload alternative. The information desks at Simon Malls sell $500 gift cards with a $2.95 fee. I've never heard of Simon Malls (Westfield dominates where I live), but he pointed out that a prominent outlet mall near my town is in fact a Simon Mall. As far as I know, there is nobody else in the area into travel hacking, so unless all those German and Japanese tourists who get hauled in from San Francisco are in on this too, I will have an entire gold mine to myself.
There is also a mall out in the South Bay that is affiliated with the company. After my ReloadIT purchase, I was running late and didn't have time to explore this further, but reader Tony did. He notified me that the information desk at the mall did in fact take credit cards and since they are US Bank issued, you can use them to set a PIN.
This is terrific news for those who were upset about the Vanilla Reload shut down. Not only is the $2.95 fee less than the cost of Vanilla Reload cards, it's almost half the cost of purchasing Visa and Mastercard gift cards in stores (which can cost upwards of $6.95 per $500). Here are two possible ways to maximize your earnings on these purchases:
1. American Express Gift Cards. I've gone on and on about this, but buying American Express gift cards purchased through a shopping portal is my favorite way to manufacture spend. Currently, BeFrugal is offering 3% cash back on Amex gift cards. On a $5,000 purchase, you're looking at $150 cash back (minus $8.95 shipping and $7.90 in fees). BeFrugal does have a coupon code that waives the fee for Business gift cards, but you need a tax ID to buy these.
Unload the Amex gift cards by purchasing Visa gift cards at the information desk and you're looking at a net profit of $103.65.
2. Bonus Category. What possibly makes this even more lucrative is the Q4 Chase Freedom category bonus. On the list is "select department stores," which include Macy's, Nordstrom, Sears, etc. If purchase at a Simon Mall information desk gets coded as a department store, you could be looking at a 5% cash back/5 point per $1 payout on Visa gift cards. This is limited to just $1,500 for the quarter, but even with restrictions, 5 points are better than 1.
When the Vanilla Reload shut down was just a rumor, I stated that I was not worried because we'd all have to adapt and something better would come along eventually. Sure enough here it is.
Disclosure: If you use the BeFrugal link in this post to sign up, I will earn a $5 referral bonus after you make your first purchase.
Subscribe via email for more points, miles and free travel