Reader Mary emailed me, asking if Travelzoo's vacation package to Ireland is a good deal. The package is pretty generous and includes roundtrip economy airfare between New York and Dublin, six nights at the Powerscourt Hotel and a manual shift rental car starting at $949 per person. The deal is valid for two travelers, so the total cost with taxes comes to $1,897.98. It's important to note the airfare included in this package is not eligible for mileage accrual.
Travel must take place on the following dates:
January 13-31, 2015 (including over Martin Luther King Jr. Day)

February 1-13 (over Valentine's Day)

Feb 15-18 (over Presidents Day)

February 20-28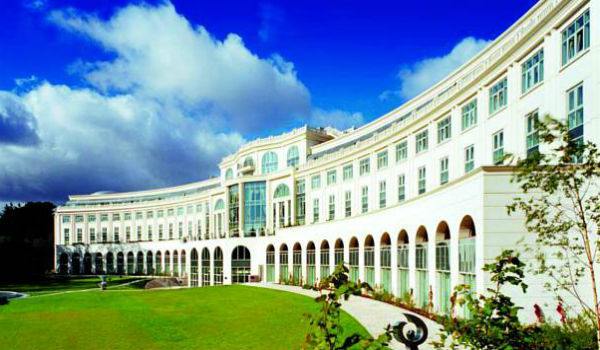 For an additional $100 per person, you can even book this package over St. Patrick's Day. Meanwhile peak spring travel dates can be booked for a much higher $1,399 per person. For an additional fee, you can book this package out of a different U.S. airport, upgrade from a standard room to a suite, or extend your trip and add additional cities. 
So is this package a good deal? To determine this, we'll analyze the cost of booking this trip on cash or points, based on Mary's departure date of February 3, 2015:
Booking Cash
Airfare: $1,190 for two people

Hotel: $1497.14 for six nights at the Powerscourt hotel  includes taxes)

Car rental: $23 through Auto Europe (taxes included)

Total cost: $2,706.43
Compared to the cost of booking this vacation a la carte, the Travelzoo package is an amazing deal. The hotel alone will cost well over $1,500 after taxes, so for an additional $400 you get airfare for two included. Granted you won't earn miles on the airfare, but those 6,400 miles don't compare to the $800 in savings offered by this package.
Booking on Points and Miles
Airfare: 80,000 Avios roundtrip

Hotel: 140,000 Marriott points for 6 nights at the Powerscourt Hotel (including the 5th night free)

Car rental: 2,070 Arrival Miles or 30,372 Ultimate Rewards points (based on UR portal price of $379.68 from Avis)

Total Cost: 222,070 or 250,372 points
Booking a rental car through the Ultimate Rewards mall isn't the way to go, since the cost for a six day rental is substantially higher than the rate offered by Auto Europe. So factoring that out, if you value your Ultimate Rewards points conservatively at 1.2 cents each, the minimum 222,070 Ultimate Rewards points required for this trip are worth $2,664.84. At this rate, it would be more prudent to go with the Travelzoo package than to redeem points.
If your Marriott points come from the Marriott Premier Rewards Visa and you value them closer to 0.7 cents each, along with your Avios at 1.6 cents, you are looking at using $2,280.70 worth of points for the trip: 
140,000 Marriott points = $980

80,000 Avios = $1,280

2,070 Arrival Miles = $20.70
Again, booking the Travelzoo package will be cheaper, even if your Marriott points and Avios came from co-branded credit cards, rather than Ultimate Rewards transfers. 
On the other hand, booking the Travelzoo package with the Arrival card at a cost of $1,897.98 would require 170,820 Arrival miles (after the 10% travel redemption discount). Earned at a rate of 2 miles per $1, an Arrival account would be far easier to recuperate than Ultimate Rewards – unless you're taking advantage of the 5x category bonus on the Ink card. This is also assuming that the package, purchased through Great Value Vacations, would get coded as a travel purchase.
Subscribe via email for more points, miles and free travel