It's been an interesting couple of days since the "Muslim Ban" went into effect. As someone who has gotten used to racism and islamophobia over the last 15 years, I was completely shocked at the reaction around the country. The travel community in particular really stepped up to the plate. Airbnb offered free housing to stranded immigrants, Lyft is donating $1 million to the ACLU, airports around the country have been flooded with protesters, and people are boycotting Uber. There's even an incognito boycott of Trump Hotels that traveler hackers are organizing. Americans around the country have expressed solidarity with people they share no religious, ethnic, or cultural affiliation. That's amazing.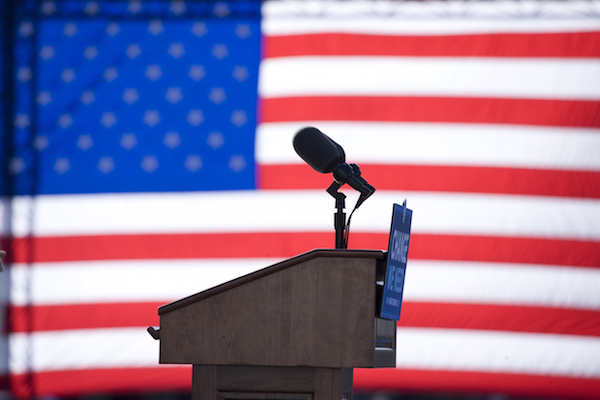 A few travel bloggers got flack for getting political. I've seen countless tweets telling bloggers to "keep your political opinions to yourself!" and "stick to writing about travel!" Really? Is it not more important to have a conversation about issues that affect us all than to share pictures of our food or react to who Negan killed?
This actually happens quite a bit and is something I experienced during the election. But you know what I've noticed? This aversion isn't restricted to travel bloggers. During the election I saw tons of Facebook posts from people expressing their annoyance with their "friends" for sharing political opinions on social media. Then there's the old adage about not discussing politics and religion in a social setting. So it seems there isn't really ever a "proper" time or place to discuss politics, and who can discuss it is extremely limited.
In a democratic society, it's everyone's responsibility to actively participate and that involves healthy discussions of political and social issues. Regardless of whether it's a travel blogger, a politician, or a gas station attendant – we should all be participating in respectful discussions. Those who have a platform, even more so. More importantly, people need to stop being so hypersensitive to talk of politics.
As an Afghan who grew up in Germany and has lived in the U.S. for almost 20 years, I always found this strange about Americans: How they claim to cherish freedom of speech and democracy, yet object to people exercising their rights by either voicing political opinions or protesting. Remember the Tea Party jokes? Occupy Wall Street protesters being dismissed as lazy, unemployed millennials? I find it bizarre that anyone would object to people getting involved in politics. Especially since it's an essential way for citizens to maintain a healthy democracy. How a person votes shouldn't have a bearing on whether you feel you "can be friends with that person." 
This "shut up about politics!" mentality is prevalent in totalitarian countries and should have no place here. What needs to change is everyone's approach and their reactions. Don't freak out when your favorite blogger expresses an opinion different than your own. Take the opportunity to have an intelligent conversation. Instead of saying something snarky, say something educational. Instead of resorting to racism or accusations of such, try to see the issue from their point of view. Learn to meet in the middle. That doesn't happen when you shut people out because they don't agree with you or "this isn't the appropriate forum for that."
In the 80's, several of my family members in Afghanistan were persecuted under suspicion of opposing the communist government. My aunt's husband was arrested and never seen again. My grandfather was arrested after his niece turned him in for "being an American sympathizer." We don't have to fear getting jailed or off-ed by government hitmen in this country (at least not yet). No one should stay out of politics.
So let's not take our rights and privileges for granted: That we're able to travel nearly anywhere in the world, uninhibited, that we're able to speak and protest openly. After all, the immigrants at the center of this controversy come from countries where they are denied those very rights.
Subscribe to Blog via Email