As of 8/21/15 BeFrugal has implemented the same $200 limit on Amex gift cards as Top Cash Back
Reader Jeff brought this to my attention: TopCashBack is currently offering 2.25% cash back on American Express business gift cards. The bad news is that they're now limiting cash back to  gift cards purchased in $25, $50, $100, and $200 denominations. Purchasing the daily maximum of $10,000 would incur $197.50 in gift card fees as well as $5.95 – $15.95 in shipping costs. Meanwhile, you would earn $225 cash back, but liquidating these cards would be tedious and costly a minimum of $197.50. At this rate, it's hardly worth it to keep manufactured spending with Amex gift cards purchased through TopCashBack.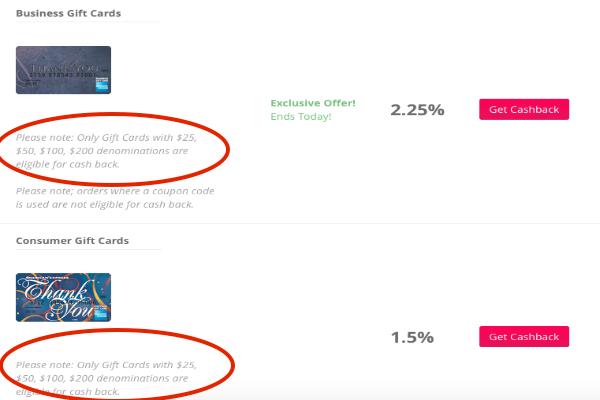 On the up side, BeFrugal is still offering 1.5% cash back on Amex gift cards purchased in denominations of up to $2,000! No, you're not getting 2.25% cash back, but at 1.5% you're at least going to break even. So while TopCashBack may be out of the picture, at least BeFrugal is still in the game. I've heard some negative stories about BeFrugal's tracking system. While I've never had a problem, I still recommend you take screenshots of your transactions in case you need to provide proof that you used the portal for your gift card purchases. If you're new to BeFrugal, you can earn $5 for signing up with my link. I will earn a $10 bonus after you earn $25 in cash back within 90 days.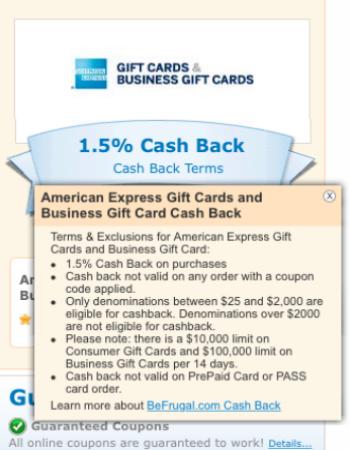 If BeFrugal ends up going the way of TopCashBack, you can always search for other options via CashBack Monitor and CashbackHolic. A search for "American Express Gift Cards" currently turns up lots of cash back portals, including Lucky Shops, Rebate Giant, and the Alaska Airlines portal. Be sure to read the fine print to verify that gift card denominations over $200 qualify for cash back rewards.
Subscribe to Blog via Email