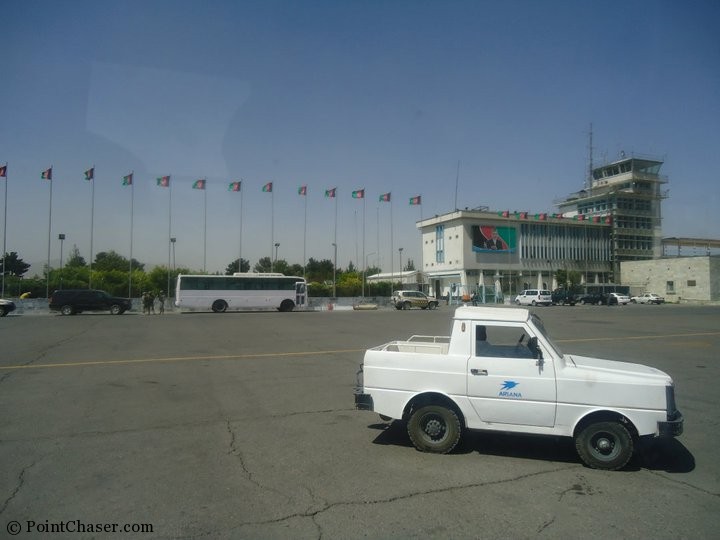 Tips for Visiting Kabul: Transportation, Lodging, and Staying Connected
In the previous post we covered whether Afghanistan is a safe place to visit. If that hasn't deterred you from visiting, here are a few tips on how to prepare before your trip, how to get there and where to stay, how to get around, and stay connected to friends and family:
Before your trip. Talk to your doctor about vaccinations before you go. During my years in elementary school through college, I've been vaccinated against pretty much everything imaginable. However, if you've been skipping out, definitely see your doctor about getting the required shots. The CDC recommends everyone get MMR shots along with diphtheria-tetanus-pertussis vaccine, varicella (chickenpox), polio, and flu shots. In addition, they recommend various other vaccines depending on where you plan to travel and what activities you'll be involved in. Personally, I think some of the advisories are excessive, but do what you feel comfortable with.
Visa info. All tourists must obtain Visas in advance through the Afghanistan embassy in D.C.. A single-entry visa is valid for a 3-month period and comes at a hefty $150. Foreign citizens born in Afghanistan only require an entry permit.
My family and I did not have entry permits during either visit to Afghanistan My parents and I simply presented our US passports, showing Afghanistan as our country of birth. They gave us some grief over my sister, who was born in Germany, but the official ultimately let it go.
How to get there. There are a few ways to get to Afghanistan, some of them on frequent flyer miles. Most people get to Kabul through Dubai, with Afghanistan's national carrier, Ariana Airlines, Kam Air, and Safi operating flights between the two cities.
Ariana isn't the safest carrier and has been banned by the European Union. Safi Airways is safe – how do I know? All the westerners typically fly Safi. I flew with them on my second trip to Kabul and their planes were in great shape. Avoid Kam Air – it was founded with dirty money from a ruthless warlord. FlyDubai also operates flights to Kabul, though in my experience, their fares are the highest. Emirates began service between Dubai and Kabul last December. I tried to search for space on Alaska Airlines' website, but unsurprisingly, nothing came up. You might want to give this a shot over the phone. Typical fares between Dubai and Kabul are around $350 round-trip, which you can cover with your Barclay Arrival Miles (31,500 miles after 10% rebate)
Turkish Airlines has a more convenient flight out of Istanbul Ataturk. How is it more convenient? For one, Istanbul is a much more interesting stopover city than Dubai. Turkish is also a Star Alliance partner and award space (which is bookable on United.com) is wide open.
Where to stay. There are only three hotels in Kabul. Hyatt began constructing a new property, then turned it over to Marriott, which subsequently abandoned the site. Don't count on any new hotel projects any time soon.
The Serena Hotel is absurdly priced at $300+ per night. There's the Safi Landmark Hotel, which has rates of about $200 per night, and the Intercontinental Kabul (not affiliated with IHG since 1979) which goes for about $150 per night. The Intercontinental is the oldest of the three and most would agree that Serena is the most upscale option. I would avoid Safi because it's essentially inside a shopping mall – which incidentally, was attacked by suicide bombers. I doubt they'll hit the same place twice, but I still wouldn't recommend it because of the busy area it's in.
If you want to stay below the radar, pick a guest house. I've never stayed at one, so I can't recommend any, but I've heard great things about the Afghans4Tomorrow Guest House, which is affiliated with a non-profit organization and has rates of $50-60 per night.
Currency Exchange. If you think these currency stands around town are a scam, they are not. In fact, this is about as official as a currency exchange place gets in Kabul. There is a table right outside the terminal at Kabul Airport, though the exchange rate isn't as great as what you'll get in the city. You'll see these stands all over town: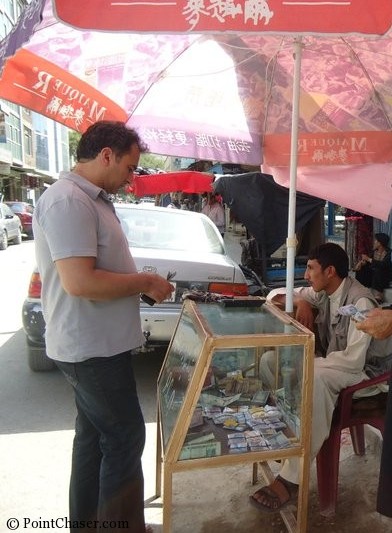 You'll also find groups of men standing at intersections, who will come right up to your car to complete this transaction. It's a bizarre sight: A group of traditionally dressed men in the middle of an intersection, holding bricks of foreign cash – mostly dollars. Right now, the standard exchange rate  is 55 Afghanis per $1. Know the exchange rate before you go. I never had an issue getting a decent exchange rate, except at the airport, but that is the norm everywhere.
Transportation. Kabul has a strange unmarked bus system. It consists of donated tour buses and overcrowded VW vans with open doors. I'm not even sure they're operated by the city. Taxis are a cheap, convenient way to get around. The fact that they don't take credit cards goes without saying. Cabs are parked on random curbsides, with pictures of former turncoat presidents, corrupt warlords, and cracked windows being the norm.
You simply tell them where you're going and negotiate a flat rate ahead of time. Some of these cabs are communal, for lack of a better word, meaning the driver might stop by the side of the road and pick up other passengers. This shouldn't impact your fare. If you don't want the driver picking up other passengers, make this known before you get in.
You can also hire a private driver. This is something I recommend if you want to take a trip to the rural areas outside of Kabul. Unfortunately I can't recommend anyone, but there are reputable services that other visitors to the city can recommend.
Staying Connected. Kabul has tons of internet cafes everywhere – in fact, my cousin owns one and if you want a safe, reliable place to surf the web, I'm happy to pass along the address. These internet cafes are swarmed with young men, so if you're a chick, you will get stares because it's such an anomaly.
Staying connected can be easy. If you've got internet access, use Viber to make free calls to anyone else using the app. If you're looking for something non-internet based, this is where your old phone comes in handy. All you need to do is buy a chip for your SIM card for around 500 Afghanis ($10). These SIM cards usually come preloaded with 100 Afghanis ($2) worth of calling credit, and you can purchase additional credits at pretty much any store (markets, grocery stores, electronic stores, etc.). The typical rate for domestic calls is $0.10 per minute, while international calls go for $0.45 per minute. The main wireless companies are Etisalat and Afghan Wireless. If you purchase your SIM card and wireless package ahead of time in the US, costs are much higher.
Subscribe via email for more points, miles and free travel