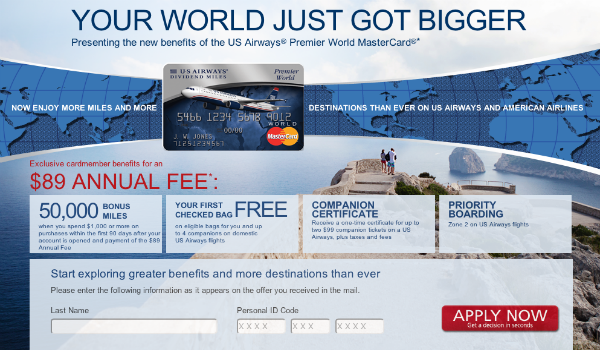 For quite some time now, the sign-up bonus for the US Airways World Mastercard from Barclays has fluctuated from 35,000-45,000 miles after first spend. For those who want a slightly higher bonus and don't mind meeting a little spend to get it, there is currently a version of the card with a 50,000 mile sign-up bonus after $1,000 spent within 3 months of account opening (thanks to reader Brenton for passing it along!). The $89 annual fee is not waived on the 50k offer, which is also the case with the publicly available offer (40,000 miles after first spend).
To apply for the 50,000 mile version of the US Airways World Mastercard, you'll need to enter a Personal ID code. If you have not received a Personal ID Code via mail or email, you can try calling Barclay and asking them for one. Simply explain that you want to apply for the US Airways World Mastercard and would like them to extend the higher 50,000 mile offer to you. Mention that there is a link to a higher offer, but it requires a Personal ID Code. They may provide you with a code or they may turn you down. In the case of the latter, simply hang up and call again until you get a positive response (or you're tired of hearing "No").
If you do end up getting a code for the 50,000 mile offer, be sure to hold onto the offer code and take a screenshot just in case Barclays ends up awarding you the publicly available 40,000 mile bonus instead. In these situations, a screenshot along with a promo code can be provided as evidence that you did in fact apply for the better offer.
As for the $1,000 spending requirements, simply load up your Amex Serve card and you've scored 10,000 extra miles at no extra cost. If you go the Bluebird route, it takes two $500 Simon Mall gift cards and $5.90 in fees to get the job done. And only one trip to Walmart – not bad!
The US Airways World Mastercard has been a fairly easy card to churn in the past and the fact that it had no spending requirements was a nice plus. The $89 fee was annoying, but considering how easy Barclays has made it to earn the bonus, it's hardly something to complain about. Now, at least, there's the opportunity to earn an additional bonus for the same $89 annual fee. The extra $1,000 spending requirement is really a non-issue.
Are you going to apply for the 50,000 mile US Airways World Mastercard?
Subscribe via email for more points, miles and free travel