Uber referral links are everywhere these days, so it's safe to assume there are few people out there eligible for referral bonuses – though if there are any, here's my link ;). Anyway, Lyft isn't as widely available or hawked as Uber, so if you're one of those people without a Lyft account, now is a good time to get one: Through September 15, 2015 Starbucks is offering some Starbucks Rewards members 12 Gold stars in addition to $20 off their first Lyft ride. The catch is that it's for new members only and you have to use the link provided by Starbucks. Once you sign up and take your first ride, your 12 Gold stars will be delivered via email within two business days.
I found my link by going into the message center of my Starbucks App: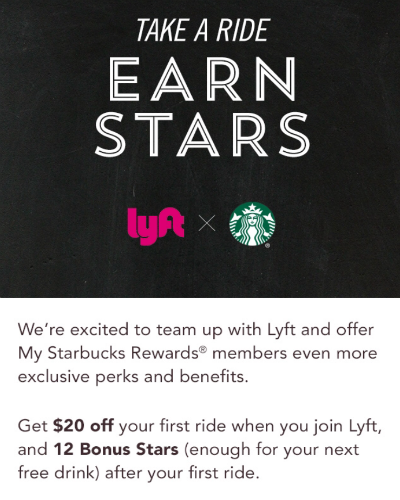 If you're unfamiliar with the Starbucks Rewards program, members earn one Gold Star every time they scan their card for a purchase. For every 12 Gold Stars earned, members earn one free item (drink, pasty, etc.). All you have to do to participate is download the app and register a Starbucks gift card to the account.
You can get great deals on Starbucks gift cards by purchasing them through gift card reselling sites (Giftcard Granny is a great starting point). The Chase Freedom card offers 5% cash back at Starbucks during at least one quarter every year. You can always earn 5x Ultimate Rewards points by purchasing Starbucks gift cards at office supply stores with a Chase Ink Card.
Anyway, this is a great deal if you don't currently have a Lyft account: You get the typical $20 referral bonus along with a free Starbucks drink. With all of the bad publicity Uber has been getting, you might want to give Lyft a try anyway….
Subscribe to Blog via Email