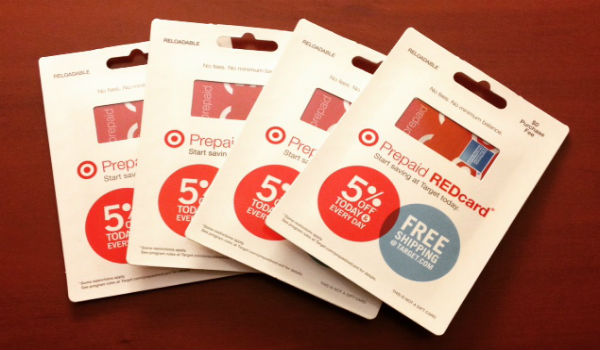 Many of you know that I live in the Bay Area (sort of), where we have yet to see any Target Prepaid REDcards (aka "Redbird"). So when an opportunity presented itself for me to tag along with my sister on a trip to Michigan, where manufactured spending is apparently super easy and convenient, I was excited to go. We ended up in Troy, which is about 30 miles outside of Detroit. We arrived the day after a snowstorm and piles of snow where everywhere. I'm glad I didn't have to drive, because it would have been a bloodbath.
Anyway, I've always heard Michigan is a hotbed of manufactured spending activity. People are still buying Vanilla Reloads and the Redbird card is readily available there. What makes Redbird so great? It can be reloaded fee-free at the Target register with a mile-earning credit card, up to $1,000 per swipe/$2,500 per day/$5,000 per month. It's like Amex for Target, minus the hefty fees and with higher daily load limits. 
Anyway, when I found out I could buy this card despite being a California resident (where the card is not currently available), I made it my mission to get four Redbird cards before I left. According to Google Maps, there were at least three Target stores within a 6-mile radius. I requested an Uber ride to the Target store in Madison Heights and asked the driver to wait outside so I could get a ride back to the hotel. This way, I didn't have to wait around for another car and the driver got paid just for waiting in the parking lot. 
I decided to play it safe and try just two Redbirds at a time. To avoid looking like an identity thief on a spending spree, I asked the cashier to load just $100 on each card. Yes, this was less than the $500 limit, but I figured it would look less suspicious and my credit cards would be less likely to get declined – especially since I was out of state.
The cashier told me I could probably buy just one card, but I explained that the second one was a gift and could we just try and see if the transaction goes through? She was willing to give it a shot and I followed Frequent Miler's instructions, swiping my driver's license and entering my brother's SSN and date of birth for the Redbird card I intended to register in his name. It worked and I walked out of the store with two Redbirds. I could have certainly gone back into a different line and bought two more, but the lines were long and I wanted to avoid suspicion. Besides, the next Target was just 2.7 miles away. 
At the Warren store, I picked up two more Redbird cards and while the cashier didn't object to the purchase, my credit card companies did. The Barclay Arrival Plus card, Virgin Atlantic Mastercard, Club Carlson Visa, Chase Sapphire Preferred – all cards I hadn't even used up until that point – were declined. My last purchases were at gas stations in Northern California and all of a sudden I'm at a Michigan Target, trying to spend exactly $100. That set off a red flag.
At this point I was out of credit cards and just wanted to wrap up the transaction asap, so I was glad when I dug around my wallet and found my debit card: $100 worth of non-rewarded spend and I was out of the store with my fourth Redbird card in hand. The Uber driver, on the other hand, must have thought I was shoplifting when I came back seemingly empty handed each time.
The next day, I had some time to spare and headed back to the Madison Heights Target for some souvenir shopping. I picked up a Redbird for my younger sister (who is turning 18 this month and needs to start contributing to her mileage account) and another for my older sister and/or brother-in-law. The jury's still out on which of them will manage the card, but since I couldn't get each of them a card, I figured they can share one.
It took about 1.5 hours, three trips to two Target stores, but now I've got $25,000 in free monthly manufactured spending to look forward to. As far as productivity and value go, this trip paid for itself ten times over.
Have you picked up a Target Prepaid REDcard (aka Redbird) yet? 
Subscribe via email for more points, miles and free travel