Update: Turns out this move was temporary. The $200 Visa gift cards are back at Staples.com!
It was only two days ago that I stocked up on $200 Visa gift cards from staples.com. At the time, there was a limit of 9 per order and that's how much I purchased. For those unfamiliar with these gift cards, they carry a fee of $6.95 and since the Chase Ink Plus card pays out 5 points per $1 at Office Supply stores, this was a fairly cheap way to generate Ultimate Rewards points. Today reader Roy left a comment on a post, stating that Staples had pulled these gift cards from their website. I went online and sure enough, the $200 Visa gift cards are gone. They still sell them in increments f $25, $50, and $100 but they're now limiting these to three per purchase. It also doesn't help that the fees on these cards make them a less than ideal way to manufacture spend.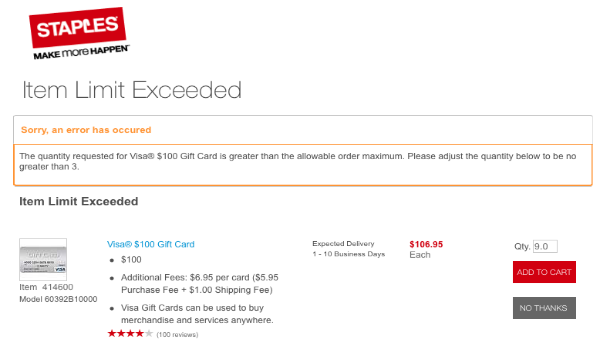 If you're trying to meet spending requirements and have no other options, buying the $100 cards for $6.95 means you're paying a whopping 6% fee – that's double what you'd pay through Google Wallet or Paypal. There's no word yet on whether these cards are still available in store, but I recommend you rush to your local Staples and see if there's any leftover stock you can pick up. If they're pulling $200 Visa gift cards from the website, I'm sure they won't be re-ordering them in their stores. 
This is sad news for those of you who relied on $200 Visa gift cards for some easy manufactured spending. I personally liked that I didn't have to scour various Staples stores fore them and deal with overzealous cashiers who wanted to know why I was spending $1,800 at a time on gift cards. I was just getting back into this method when it was discontinued! There are still other options out there (for now), so keep trying your local grocery stores and be on the lookout for creative ways to generate points for less than 1% in fees. There's always something new right around the corner.
Subscribe to Blog via Email