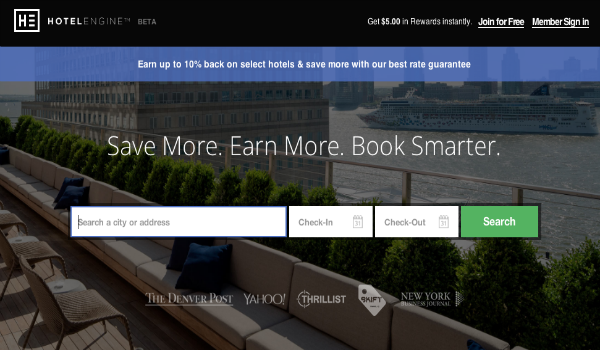 My friend Kendra over at Points & Pixie dust has partnered up with HotelEngine.com to give away $200 in travel cash! The site wants feedback from users on how they can become the go-to hotel booking site. To enter, simply head over to the giveaway post and leave a comment with your feedback. The giveaway ends at 11:59 PM on Wednesday, October 15 and a winner will be chosen at random. Just make sure your comment is well thought out and adds value.
For those unfamiliar with HotelEngine, it's a site that offers up to 10% back on hotel bookings. You can use the rewards towards future hotel bookings. It's essentially like using a shopping portal, including non-chain hotel affiliated hotels. I did a few searches and found rates on par with what Kayak and hotel websites were offering. For example, rates at the Hilton San Francisco were showing up as $369 per night on 10/22-10/24, exactly the same rate offered on the Hilton website. Plus, HotelEnging was throwing in $36.90 cash back. Considering the highest shopping portal cash back amount for Hilton is currently 3.25% offered by Classbuxx.com, this is a very generous offer.
Whether you'll earn hotel points on these bookings will vary by chain. I once booked a mistake rate a the Hilton San Francisco Financial District through a German travel site and not only earned points based on the regular rate, but I received elite night credit as well. YMMV.
If you're interested in joining HotelEngine, they are offering a $5 sign-up bonus. If you use a referral link, the bonus is increased to $25. You can also refer your friends and when they make a booking, you'll receive $25 in booking credits. According to the company's FAQ page, rewards never expire, which is a nice plus.
So don't forget to head over to Kendra's blog for a chance to win $200! You never know, your next hotel booking could be free (or significantly discounted).
Subscribe via email for more points, miles and free travel