There are lots of tips out there about how to save on hotel bookings. My go-to method is to check a series of tested OTA's, Amex Fine Hotels & Resorts, and hotel websites to find the best deals. But there's another method that most people skip over: Searching and booking hotel nights separately. What does this mean exactly? During a normal hotel booking process, you would search rates for the entire duration of your stay (i.e. August 25 – 30). BUT you can actually save money by searching and making multiple reservations for the same period (i.e. booking 2 – 5 separate reservations for August 25, 26, 27, 28, and 29).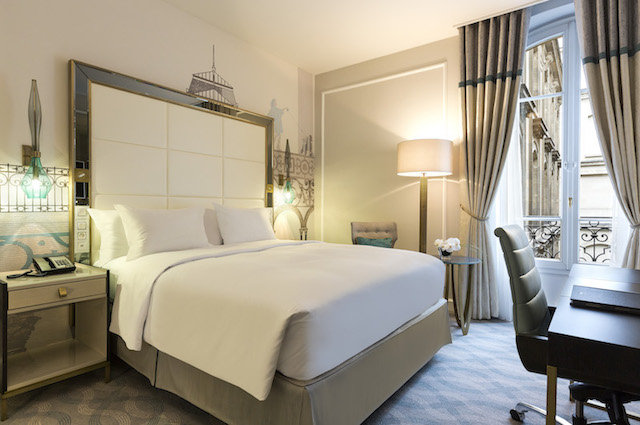 Hotel rates vary most days of the week depending on a variety of factors. Depending on the hotel market, a weekend rate can either be the cheapest (i.e. San Francisco) or the most expensive (i.e. Vegas). Check any hotel calendar and you'll see various rates across the board. Most people assume that if the rates vary across a multiple night stay, the total price will be reflected accordingly. Wrong! A lot of hotels will just charge you the higher rate for the duration of your stay.
For example, a couple of months ago I had to book a 4-night stay for my younger sister at the Hilton Paris Opera. She was traveling around Europe with my cousin and apparently the hostel they booked turned out to be a bug-infested dump. Needless to say, they needed someplace less revolting to stay. Using the aforementioned technique, I was able to save $92 on a 3-night stay. It's not a ton of cash, but it demonstrates the potential for larger savings on longer stays or on more expensive hotels.
The Hilton website showed the total cost for the entire stay on 8/19 – 8/22 as $918. But by booking two separate reservations (one for 8/19 and another for 8/20 – 8/22), the total cost came to $826. The difference in price can be attributed to the fact that there were no standard rooms available the first two nights. So I was essentially being forced to book a Deluxe room for all four nights, which cost more than the standard room. By booking nights separately, I was not just able to circumvent the price hike, but my sister ended up getting upgraded to the Deluxe room for the entire stay.
Another time this trick might come in handy is during promotions. When I booked the Conrad Makkah last year, there was a 25% off sale on Middle East hotels. The catch was that the rate had to be booked at least 24 hours in advance. I missed this cut-off, but rather than pay the higher rate, I made two separate reservations. So I only paid the higher rate during the first night.
If you want to try this yourself, just do two separate searches and compare the rates: One for the entire stay and one for individual dates. The Hilton and Starwood websites make it really easy by allowing you to view nightly rates on a calendar. The catch is that you have to search in 1-night increments to get the most accurate individual rates. You will need to go all the way to the booking page to see the final rate displayed with taxes and fees. Then simply add them up for each individual date and compare them against the price of a single-booking.
This technique is really ideal for promotions, stays that span across both weekends and weekdays, and those times when a standard room is only available for part of your stay.
Have you managed to save significantly by booking hotel nights separately? Please share in the comment section.
Subscribe to Blog via Email