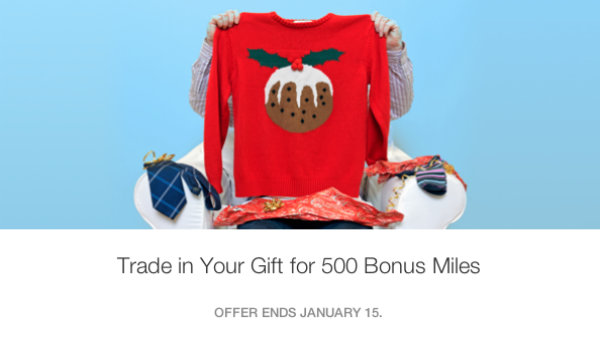 This week, millions of people will be lining up at department stores around the country to return unwanted gifts. Some of them will be cheap trinkets that are hardly worth the trouble. If you've got stockings stuffed with things you'd like to unload, Rocketmiles is offering 500 miles in exchange for your unwanted gifts. The email I received regarding this promotion explains it as follows:
We're happy to take that pair of white tube socks, pine-scented candle or any other unopened, non-perishable gift* off your hands.
Just send us a gift you could live without by January 15, 2015, and we'll add 500 miles to your next booking.
The email also states that past gifts have included "a vintage necklace, one oven mitt, a lava lamp, a plaid shirt, toy helicopter, and a gingerbread race course." I don't quite understand why anyone would trade a vintage necklace for 500 miles when there is always the option of returning, reselling, or even re-gifting it rather than exchanging it for 500 miles (after your next hotel stay). It would be nice if, in addition to the 500 miles, sending a gift made you eligible for some kind of giveaway. In any case, I wouldn't send anything that cost more then $5 and I recommend factoring shipping costs into the equation.
This promotion is limited to one per customer. All unwanted gifts must be mailed to the following address and received by January 15, 2015 at 11:59 PM (CT):
Rocket Travel, Inc.
560 W Washington Blvd — Suite 310
Chicago, IL 60661
Be sure to include your name and email address so the credit can be posted to your account. 
Keep in mind that if your gift does not qualify, you won't receive the 500 bonus miles and Rocketmiles will still keep the item. You can call the Rocketmiles concierge at 1-855-355-7625 to find out whether your gift qualifies for the promotion or not.  
This might be an easy way to add 500 miles to your next Rocketmiles booking, depending on what it is you plan on exchanging for it. Are there any unwanted gifts you'd consider unloading through this Rocketmiles promotion?
Subscribe via email for more points, miles and free travel