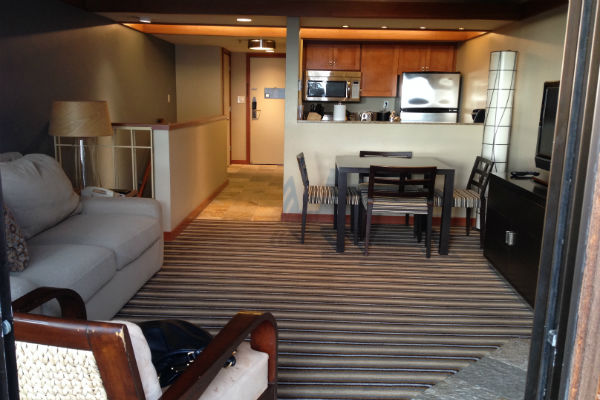 If you're a Hyatt Diamond member with expiring Suite Upgrade Awards that you haven't redeemed yet, you have until February 28 to do so. These upgrades can be applied to paid rates and Points + Cash awards of up to 7 nights. I wouldn't recommend using them for 1-2 night stays, since you're better off upgrading shorter stays with 6,000 Gold Passport points per night instead. Each Suite Upgrade Awards can be applied to stays after February 28, so you don't have to worry about redeeming them in the near future. Regardless of whether you've qualified for Diamond status past February 28 and are expecting 4 more suite upgrade awards on March 1, it would be a real shame to let these go to waste. You can always make a refundable booking, call Hyatt to apply the Suite Upgrade Award to the stay, then cancel or ask for a date change if your travel plans don't pan out. 
The advantage of applying a Suite Upgrade Award to a stay isn't just that it will get you into a better room, but at some hotels you get club room access which is otherwise reserved for Diamond members and/or premium room bookings. So if you're like me and will be losing your Diamond status on March 1, you can at least still retain these two benefits of elite membership for 1-3 stays.
Requalifying for Hyatt Diamond Status
If you want to extend our Diamond status past February 28, 2015, you can do it cheaply by mattress running with Points + Cash stays. Picking up the Chase Hyatt Visa can make this feat slightly easier, since cardholders can earn 5 stays/10 nights towards elite status by spending $60,000 in a calendar year. Not only do you get 1/5 of the way towards Diamond status (based on stays rather than nights), but you can use 50,000 of those points earned from the card to cover 20 Points + Cash nights, earning you the 25 stays required for Diamond status. You'll still need to cover $1,000 for the cash portion of these awards, which will require another $45,000 in spend on the Barclay Arrival Plus card. Overall, you're looking at $105,000 in manufactured spending and 20 mattress runs to reach Diamond elite status and earn another 4 Suite Upgrade Awards.
If you're mattress running coincides with Hyatt's 20% award rebate promotion, you'll have the benefit of receiving a total of 10,000 points back, which essentially saves you $10,000 of future manufactured spending. This brings your total spend down to $95,000. Whether the benefits earned are worth channeling all of that spend towards a series of mattress runs will depend on your travel needs. 
This is my long-winded way of reminding you to use your Diamond Suite Upgrade Awards before they expire, book a stay and cancel later if it doesn't work out, and if you want to get a shiny new set of upgrades after February 28, just spend $100,000+ and you're good to go (sounds insane, but it's totally doable). Once you have this task checked off your list, be sure to refer to the February points and miles checklist for other expiring promotions and action items to complete before the end of the month.
Where do you plan on utilizing your Hyatt Diamond suite upgrades? 
Subscribe via email for more points, miles and free travel