I've been enjoying a largely internet-free couple of weeks, partly because I've taken a hiatus from the game and because I'm sick of the internet in general. There's too much useless crap on an otherwise powerful platform and I sometimes feel like I'm contributing to the noise. It was very nice to be away from it and I highly recommend all of you try this from time to time. Since the end of the month is coming up and several IHG Rewards Club promotions are either starting or ending, I've re-emerged from my slumber and thought a reminder post was in order:
IHG Rewards Club Credit Card Sign-up Bonus Dropping
If you want to get it on the 70,000 point sign-up bonus from the IHG Rewards Club Select Credit Card, you might want to do it by May 31, 2015. After this date, the public offer will drop, likely back down to 60,000 points. In case you're wondering what's so great about this card, it has several perks that make it worth keeping long-term:
A free night every year at any of the 4,800 IHG hotels worldwide

Platinum Elite status

10% points rebate

$49 annual fee, waived the first year

No foreign transaction fees
Even taking top-tier Platinum status and the 10% point redemption rebate out of the equation, this card is worth keeping for the annual free night alone. Basically, for $49 you get a free night at any IHG hotel worldwide every year.
IHG One More Day Summer Sweepstakes with MasterCard
IHG Rewards Club members who book and pay for their IHG hotel stay with a MasterCard will be entered to win a free night. To be eligible for this promotion, members must stay at a U.S. hotel between May 31 – July 30, 2015. A total of 60 free nights will be awarded along with a grand prize of a 3-night free trip to Las Vegas for up to four people.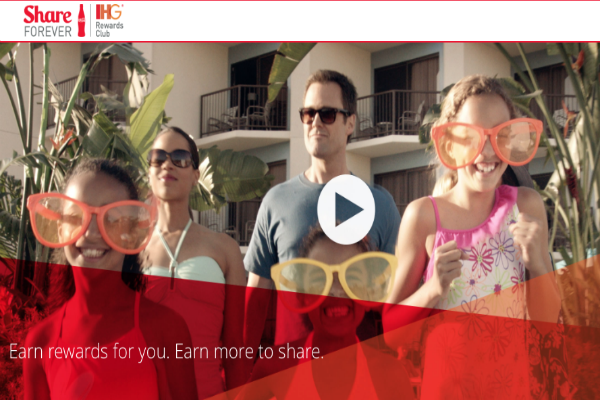 IHG Share Forever Promotion
IHG's Share Forever promotion was introduced last month and will continue through September 7, 2015. The promotion is unique in that member earn bonus points for multiple stays not only for themselves but for their friends or family as well. The bonus points offer will vary for each member. Mine is for 69,500 points plus 58,500 points to share:
Stay 1 night
For you: 500 points
To Share: 500 points
Goal: Stay 4 Nights
For You: 4,000 additional points
To Share: 1,000 points
3 Nights Above Goal
For You: 2,000 additional points.
To Share: 2,000 points.
6 Nights Above Goal
For You: 8,000 additional points.
To Share: Gold Elite Status.
10 Nights Above Goal
For You: 25,000 additional points or a free night.
To Share: 25,000 points or a free night.
20 Nights Above Goal
For You: 30,000 additional points.
To Share: 30,000 points.
The Share Forever promotion can be stacked with the One More Day Summer Sweepstake, which works out well for those who have multiple stays planned. You can earn a ton of bonus points and increase your chances of winning a free night or even a trip to Vegas.
Be sure to get in on these IHG Rewards Club offers while you can. For all non-IHG related promotions ending this week, be sure to check out the points and miles checklist for May.
Subscribe to Blog via Email