UPDATE: PointsHound has addressed the discrepancies between their rates and the ones displayed on Kayak. Although the prices on Kayak appear lower, they are phantom rates. Once you are redirected to the booking page, the rates will increase, often matching those on PointsHound.
Earlier this week, I came across a newly launched hotel booking site called PointsHound.com. I learned about the site after they re-retweeted one of my links and decided to check it out. 
The site is unique in that it lets you earn airline miles on hotel bookings made through their website. While most loyalty programs give you the option to earn miles instead of loyalty points, PointsHound has triple-dipping potential and offers a chance to finally earn miles on hotels that don't have loyalty programs.
You need an account to use the site, which takes just a minute to set up. If you join using a referral link, you will earn 100 bonus points and the person referring you will earn 500 points after your first booking. Simply log in and enter the the city and date of your stay. The results page displays an impressive array of hotels ranging from boutiques to chain hotels – not at all different from Kayak or any other booking site. The search results also display the number of miles you will earn based on the rate of the hotel. Earnings will differ with each airline, and you can easily switch between programs using the drop-down menu at the top of the page.

Using Kayak for comparison, I did a sample search for hotels in Monterey, CA during November 1-3 (Thursday- Saturday). Here is what I found: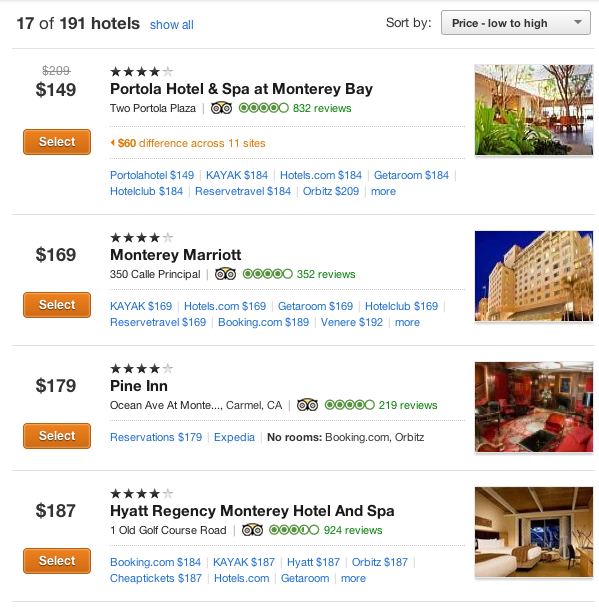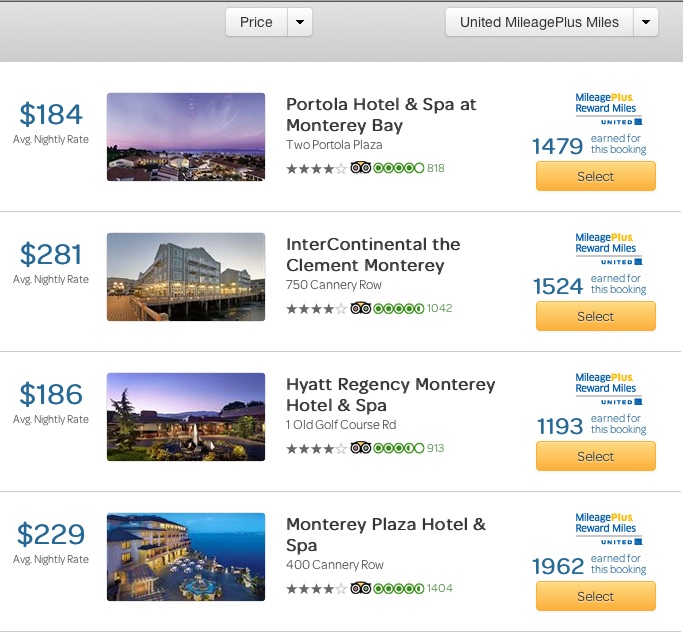 Are prices higher?
Prices for major hotel chains (Hyatt, Hilton, Marriott) were generally the same when compared to Kayak. Although Kayak displays significantly lower rates for boutique hotels, these rates increase once you are directed to the booking page. Taking this glitch into account, the rates displayed by PointsHound are not higher. PointsHound does offer a low price guarantee, in case you do find a lower rate elsewhere. 
How many miles will I earn?
Most bookings earn "around" 4-9 miles per $1, depending on the account Level. All accounts start at Level 1, which earns "around" 4 points per $1. The reason they use the term "around" is because point earnings vary depending on the program you choose. The results page displays the total miles you will earn for each booking.
Double Dip: As with any other hotel booking, you will earn miles when you use a point-earning credit card. The Chase Sapphire Preferred is a great choice, earning 2 points per $1 on travel.
Triple Dip Potential: If your hotel loyalty program awards points for reservations made through third-party booking sites, you can earn even more points in addition to earning credit towards elite status.
Will I still earn hotel loyalty points if I book through PointsHound?
Peter Van Dorn, the founder of PointsHound, has relayed that some members have reported earning loyalty points in addition to the miles they earned through PointsHound. I guess we'll have to wait for a Flyertalk/Milepoint thread to pop up with feedback on which hotels allow this…
Which airlines can I earn miles with?
Participating programs include AeroMexico, Delta Skymiles, Hawaiian Miles, and United MileagePlus. New programs will be added as the site expands.
Are there any booking fees?
PointsHound does charge a booking fee, which gets factored into "Tax Recovery Charges & Service Fees." Based on a few mock bookings, it looks to be about $22. If you're earning lots of miles with non-chain hotels and have the potential to also earn points with chain loyalty programs, this fee may well be worth it.
When I compared prices for the Intercontinental Monterey, taxes totaled $61.60 on the ICH website, and $83.28 on PointsHound. The $655 booking would have earned 1550 MileagePlus Miles, at a cost of $21.68 (i.e. $.014 per mile); A direct booking would have earned a total of 6,650 Priority Club Points at no cost. Whether the booking fee is worth it depends on how you value your miles over hotel loyalty points. Of course if you can earn both points and miles, it's worth paying the extra fee. 
When do miles post?
Miles post 2-6 weeks after your stay.
Things to keep in mind
With chain hotels, you may lose out on loyalty points and credit towards elite status.

You can also earn points/miles with third-party booking sites (i.e. Expedia, Hotels.com, etc.), using a

shopping portal

. I recommend comparing portal rates (and booking fees) to ensure you are earning the most points/miles per $1 possible.

Many hotel chains offer bonus points for bookings made directly through their website (i.e 250-500 points). Consider whether the value of these points is lower 

than the value of the miles you're earning through PointsHound.

Major hotel chains like Hyatt offer 500 frequent flier miles in lieu of hotel points, while Hilton lets you Double Dip with 10 HHonors points per $1 plus 500 miles per stay. Keep these options in mind when you are thinking of booking a chain hotel.
Conclusion 
Overall, I think PointsHound offers tremendous value for non-chain hotel bookings. The Four Seasons chain has hefty room rates but notoriously lacks its own loyalty program. This makes Four Seasons an undesirable option for frequent travelers. However, through PointsHound you can stay at properties like the renowned Four Seasons Maui and earn thousands of miles for your stay. With the added low price guarantee and ability to earn up to 9 miles per $1, this is a no-brainer. For chain hotels, the potential to triple dip make this a worthwhile option to consider. 
Disclosure: I do not earn a referral fee for any of the links in this post, with the exception of the PointsHound sign-up link. Using this link earns us both bonus points. 
What are you thoughts on PointsHound? Will you use it for future hotel bookings? 
Subscribe via email for more points, miles and free travel