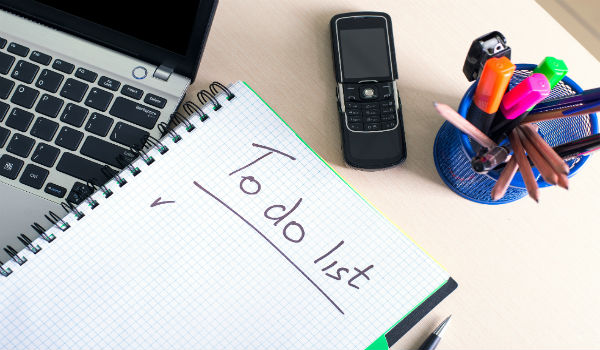 Between the many hotel devaluations and the airline industry's continued assault on it's most loyal customers, it's been a rough month for those in the points and miles game. There's nothing to be done about these things except to adjust – or say "screw it" and walk away from it altogether. For those choosing the first option, there's a long list of things to get through before the end of the month. Here is the points and miles checklist for March:
❑ New Hyatt Diamond Suite Upgrades. To start things off on a positive note, congrats to those of you who've managed to earn Hyatt Diamond status! Not only do you get to feel superior to us lowly Platinum members, but you're in for a treat because four new Suite Upgrade Awards were added to your account yesterday! These are good for stays of up to 7 nights (both paid rates and Points + Cash rates qualify) and must be redeemed by February 28, 2016. Also worth noting is that starting this month, Guest of Honor benefits kick in, which means Diamond members can extend their elite benefits to friends and family members on award stays.
❑ Club Carlson Triple Points Promotion. Check your email this morning and you may be in for a pleasant surprise. Club Carlson is targeting some members with a triple points offer on all stays through March 31, 2014. There's no need to register for anything – just book your stay and rake in 60 points per $1. On a $150 hotel booking, that translates to earnings of 9,000 points – enough for a free night at a Category 1 hotel! Just make sure you hold onto the promotion email, in case there are issues with your points getting credited and you're told it's because you were not targeted for this promotion.
❑ Link Your SPG and Uber Accounts. You've probably heard it elsewhere since I couldn't be bothered to write about it in a timely manner (too many episodes of Real Housewives of Atlanta to get through last week), but Starwood and Uber have partnered up, allowing SPG members to earn at least 1 Starpoint per $1 spent on their Uber rides [Que shameless plug for referral link]. To take advantage of this new partnership, you'll need to link your SPG and Uber accounts and complete one qualifying Starwood stay this calendar year.
❑ Consider Crediting United Flights to Another Program. The United MileagePlus program took a major hit yesterday, with the implementation of a new mileage earning structure. Going forward, members will earn redeemable miles based on ticket price rather than distance flown. Mommy Points illustrates how this negatively impacts her own mileage accrual, as well as how to continue earning a higher payout by crediting miles to a partner rewards program.
❑ Max out and Activate the Chase Freedom Category Bonus. Whether you're stocking up on food items or buying Visa gift cards, be sure to use your Chase Freedom card at the grocery store through the end of the month. March 31, 2015 is the last day to take advantage of the current Chase Freedom category bonus, which involves 5% cash back/5 points per $1 on the first $1,500 spent at movie theaters, Starbucks, and grocery stores. The deadline for activating the bonus is March 14. Next quarter's bonus categories haven't been announced yet (only restaurants are currently listed), but activation starts on March 15, 2015. Now is a good time to set a reminder on your phone.
❑ US Airways Dividend Miles Mastercard Spend Bonus. On a quarterly basis, Barclays targets some Dividend Miles cardholders with a spend-based bonus promotion. Through March 31, 2015 targeted cardholders earn 2 bonus miles per $1 spent (up to $2,500 bonus miles) on dining, movie theaters, and grocery stores purchases. So once you've maxed out the $1,500 of spend on the Chase Freedom card, you might want to give the Barclays spend bonus a shot.
❑ Register to Save 20% on Hyatt Award Redemptions. Through July 31, 2015 Chase Hyatt Visa cardholders get 20% of their points back on award redemptions. The deadline for registering for this promotion is March 31, 2015. This provides plenty of time to pick up a Chase Hyatt Visa if you don't already have one. Regardless of whether you think you'll redeem Hyatt points by July 31, there's no harm in registering.
❑ Double Your HHonors with Hilton. Between March 1 – May 31, 2015 Hilton is offering members a choice between earning double points or double miles on hotel stays. The only catch? Out of the 4,200+ Hilton hotels worldwide, over over 750 aren't participating. That's nearly 18% of properties, which isn't terrible since most of them are airport hotels and suburban Hampton Inns, but if you stay at these hotels frequently it's probably less than ideal. Perhaps you should take your business to Hyatt…
❑ Book Your Marriott Stays Before D-Day. Marriott's annual category changes will be implemented on March 19, 2015. Nearly 1/4 of Marriott and Ritz Carlton hotels will be changing categories: 986 are moving up and 359 are moving down. For those of you with a Marriott or Ritz Carlton free night certificate (valid at Category 1-4 hotels), a timely redemption can mean the difference between staying at a 5-star hotel abroad and settling for a suburban Courtyard Marriott. Be sure to check which hotels will be affected and book accordingly.
❑ Book Your SPG Stays Before D-Day.  Starwood's annual category changes will go into effect on March 10, with 255 hotels either moving up or down one category. Be sure to check out the list of changes to determine whether it makes more sense to book your stay before or after March 10.
❑ FlyingBlue Promo Awards. The latest FlyingBlue Promo Awards were published yesterday and are valid for bookings through March 31, 2015 for travel between May 1 – June 30, 2015. Promo awards are an extensive list of award flights that are discounted by 25 – 50%. Though taxes are higher on these awards, Arrival miles can certainly help make them less of an issue. For those of you making summer travel plans, FlyingBlue Promo Awards could translate to significant savings.
❑ Remember to Keep Your Marriott Account Active. Starting February 1, 2016 your Marriott and Ritz Carlton Rewards points will no longer be safe from expiration. Members who display no qualifying activity on their accounts within 24 months will forfeit their points. So if you've been turning your nose up at Marriott's Shop My Way portal, it may be your best option for keeping your account active for that now-overpriced award redemption you've had your eye on.
❑ Buy or Transfer US Airways or AAdvantage Miles. If you need to top of your AAdvantage or Dividend Miles account for an award, both programs are offering a 10% discount and up to 30,000 bonus points on purchases and transfers through March 3, 2015.
Miles Purchased Bonus Miles/Discount
20,000 – 39,000 7,000 + 10% off
40,000 – 59,000 15,000 + 10% off
60,000 – 74,000 23,000 + 10% off
75,000 – 100,000 30,000 + 10% off
❑ Transfer Hotel Points to AAdvantage Miles. That statement is by no means a recommendation. I would never transfer hotel points to airline miles at a 5:1 ratio, but if you have orphan Choice Hotel points like I do and don't anticipate earning more or redeeming them anytime soon, then transferring them might make sense. Through March 15, 2015 American Airlines is offering a 25% bonus on hotel point transfers to AAdvantage miles. The bonus applies to transfers from select hotel programs that are initiated by 11:59 PM (CT) on March 15, 2015:
Best Western International
5,000 Best Western Rewards points = 1,000 AAdvantage miles
Choice Hotels
5,000 Choice Privileges points = 1,000 AAdvantage miles
Hilton Hotels
10,000 Hilton HHonorsTM Points = 1,500 AAdvantage miles
Hyatt
5,000 Hyatt Gold Passport points = 2,000 AAdvantage miles
InterContinental Hotels Group
10,000 IHG Rewards Club points = 2,000 AAdvantage miles
Marriott
10,000 Marriott Reward points = 2,000 AAdvantage miles
20,000 Marriott Reward points = 5,000 AAdvantage miles
30,000 Marriott Reward points = 10,000 AAdvantage miles
70,000 Marriott Reward points = 25,000 AAdvantage miles
140,000 Marriott Reward points = 50,000 AAdvantage miles
Carlson Rezidor Hotels
2,000 Club Carlson Gold Points = 200 AAdvantage miles
10,000 Club Carlson Gold Points = 1,000 AAdvantage miles
50,000 Club Carlson Gold Points = 5,000 AAdvantage miles
100,000 Club Carlson Gold Points = 10,000 AAdvantage miles
Wyndham Hotel Group
6,000 Wyndham Rewards® points = 1,200 AAdvantage miles
16,000 Wyndham Rewards points = 3,200 AAdvantage miles
30,000 Wyndham Rewards points = 6,000 AAdvantage miles
Is there anything else (points and miles related) that you've got on your March 2015 to do list?
Subscribe via email for more points, miles and free travel