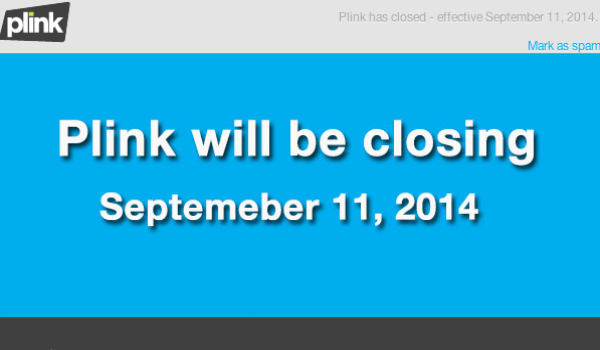 This isn't quite as devastating as the news that Amazon Payments is shutting down, but it's a loss nonetheless: The shopping app Plink has closed it's doors without so much as a warning. I got an email at 5:00 PM today in my antiquated Yahoo email account, letting me know that as of that second, Plink would be shutting down for good. 
The eulogy email goes on to cite the lack of funding as the reason for Plink's demise and expresses gratitude to "our loyal members who have supported us for the last three years." You would think they would at least repay that loyalty with an advanced warning or allow them to redeem their points before making an abrupt exit, but I guess they were just too busy writing this lengthy email instead:
To Our Loyal Plink Members,
With much sadness and heavy hearts, we are sorry to tell you that Plink is closing its doors. As of today, the Plink site will be shut down and the program will cease to function.
As a start-up, we are reliant on continued funding and over the last year we have been unable to secure any additional funding. Unfortunately, without that funding, Plink can no longer continue to operate. As a team, we did everything we could to keep Plink alive, but we have now run out of time and options.
We owe a huge debt of gratitude to our loyal members who have supported us for the last three years. As a team, we want to thank all of our members, for their loyalty and continuing to stick with us to the end. We couldn't have made it this far without such an amazing loyal, committed group of members.
We also want to thank all of our advertisers and partners who supported us over the last three years. It was their belief in us and willingness to support a small start-up that allowed Plink to grow. We are proud to have partnered with some of the largest restaurant and retail brands in the United States.
Moving forward, all Plink accounts will be closed. No further points can be redeemed. Thanks to all from the Plink Team.
Any further questions can be directed to support@plink.com. 
Plink was a pretty useful manufactured spending tool back in the day when Vanilla Reloads were sold at 711 stores. It was also great for the occasional double dip at movie theaters and other merchants. In the year that I've been using Plink (sparsely), I've never redeemed my points, though I doubt I had enough for a redemption to begin with.
If you had a huge stash of Plink points that have now disappeared into thin air, you can certainly try emailing them at the address above. Since they've shut down operations and their Twitter account has been deactivated, this appears to be the only way to get in touch with them – though, again, I wouldn't count on it. The lesson in all of this? Always use your points, don't hoard them. They could disappear into thin air, just like Plink.
Subscribe via email for more points, miles and free travel