I have yet to find a merchant that allows credit cards as a payment option on Green Dot Moneypaks, but your experience may vary. Moneypaks can generally be found at drugstores, gas stations, and grocery stores in increments of up to $500. I did find a RiteAid in Downtown Oakland that sold these fee free and accepted debit cards – this is pretty much only lucrative if you can use the Suntrust Skymiles debit card, which pays out 1 mile per $1 spent.
Fees: $4.95 per $500
Where to buy: Drugstores (CVS, RiteAid, Walgreens), Walmart, Grocery stores, 7-Eleven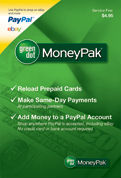 If you can manage to buy Moneypaks with a mile-earning credit card, there are several prepaid card options for unloading the balance. Below are the cards with the lowest recurring fees:
1. Green Dot Prepaid Card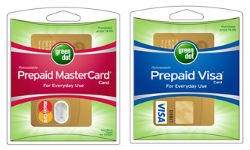 Reload Limit: $2,500 per day/$10,000 per month
Fees: $5.95 monthly fee (waived if you load at least $1,000 per billing cycle), $4.95 card purchase fee (waived if you order it online)
Where to buy: Walmart, CVS, grocery stores
How to Cash Out: ATM, Bill Pay, Money Order, Cash back at the register, Square Cash
2. Paypal account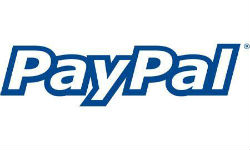 Reload Limit: $4,000 per month
Fees: $0
How to Load: Simply go to the MoneyPak website and select "add money to Paypal." You'll be prompted to enter your Paypal login information and then enter your MoneyPak number to complete the load.
How to Cash Out: Bank transfer, or pick up a Paypal Business Mastercard and use that to buy a money order, send money via Amazon payments, or load onto Bluebird.
3. American Express Serve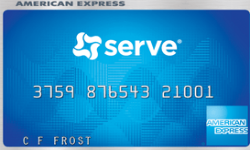 Reload Limit: $1,000 per day/$5,000 per month with MoneyPaks, $200 per day/$1,000 per month with credit cards
Fees: 
$2.95 fee if you purchase the card in-store

$1 monthly fee (waived in NY, TX, VT) waived any month at least $500 is loaded, or the card is added to your Isis Mobile Wallet

2 ATM fee (first ATM withdrawal every month is free)
Where to buy: Online, CVS, 7-Eleven
How to Cash Out: ATM, Amazon Payments, Bill Pay feature
Please note, you cannot have both a Serve and Bluebird account at the same time. American Express Serve can be loaded with mile-earning credit and debit cards, though some credit card companies will treat this as a cash advance. In this case, the transaction will incur fees and you will not earn any points.
In addition to Green Dot Money Paks, there is another type of reload card called the Green Dot Cash Reload. This card can only be loaded onto Green Dot Prepaid cards, and the fees are the same as for Green Dot Money Paks.
4. ADP TotalPay cards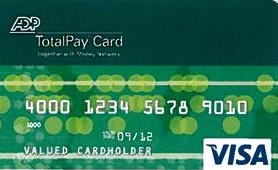 Reload Limit: $1,100 per day/$2,400 per month
Fees: $3 ATM fee when you go outside the Allpoint network
Where to buy: Online
How to Cash Out: Amazon Payments, ATM, bank transfer, bill pay feature, cash back at grocery store registers, money order, Square Cash
Note: I will receive a small referral fee if you sign up for the Serve card using the affiliate link in this post.
Subscribe via email for more points, miles and free travel