Update: American Express for Target cards can no longer be loaded with credit cards and are said to be phased out by the end of 2015. Thus, they are no longer a viable manufactured spending tool.
Reload Limit: $1,000 per day/$5,000 per month
Fees:
$3 Activation fee

$3 Per load

$3 ATM fee (first transaction every month is free)
Where to buy: Target register
Where to load: Target register
How to Cash Out: ATM, Amazon Payments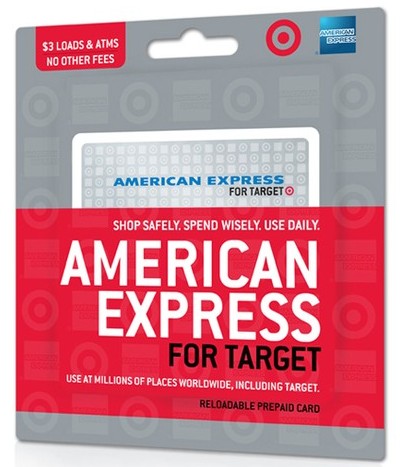 The great thing about the American Express for Target card is that it can be loaded directly with a credit card at the Target register. Amex for Target is different from the Target branded American Express gift cards also found at the register, which many folks get confused. When you pick up the card, you are limited to a $500 initial load, then $1,000 after that. You can have up to two Amex for Target cards in your name, though your maximum load limit remains $5,000 across two cards (as opposed to $10,000, which would be much more ideal).
Cardholders get one free ATM withdrawal per month (up to $400 at a time) and after that, a $3 fee is assessed per withdrawal. You are still liable for fees charged by the ATM operator. One of the cheapest ATM's can be found at Costco, which charges just $1.25 per transaction.
Even though cardholders get a PIN number, this PIN can't be used for cash back or where debit cards are requested (i.e. money orders).
American Express for Target is one of the most expensive ways to manufacture spend. Even taking the discounted Costco ATM into account, you are paying $12.75 per $1,000 in manufactured spending and unloading. The only time I'd recommend using Amex for Target is if you've maxed out your other prepaid cards and need to meet spending requirements fast. When you're earning miles at a cost this high, be sure you're getting the most out of your redemptions by comparing the cost of paying for a hotel/airfare with the cost of acquiring the miles.
How does the Amex for Target cad factor into your manufactured spending strategy, if at all?
Subscribe via email for more points, miles and free travel