A few weeks ago MyPoints offered 150 points per $1 at OpenSky. There was some confusion, with folks wondering if the deal offered 150 MyPoints or 150 OpenSky points. Some of Frequent Miler's readers reported getting MyPoints for their purchases, which is good news. 
The deal was dead within hours, with many folks kicking themselves for missing out.
MyPoints has sort of revived this deal, this time offering 50 points per $1 at OpenSky. The deal is valid until October 29, giving you plenty of time to take advantage of it.
OpenSky is also offering a $20 credit to new members, valid starting 7 days after registration.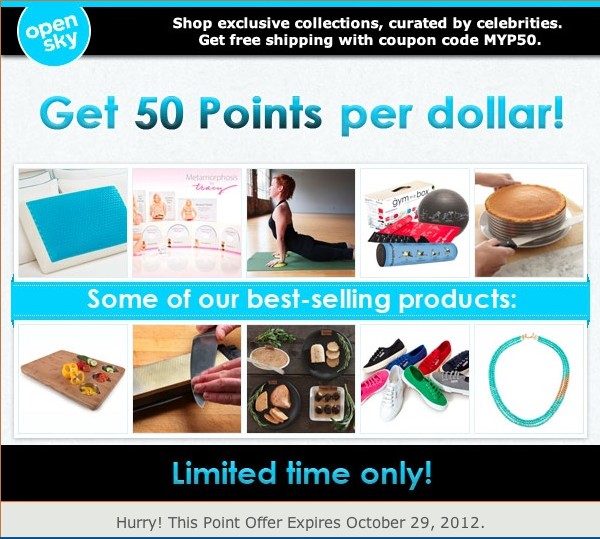 For those of you unfamiliar with MyPoints, it's a shopping portal that lets you earn points and redeem them for giftcards. The most valuable redemptions, to me, are in the travel category.
Hyatt
9,600 points     $75 gift certificate
7,350 points     $50 gift certificate
4,000 points     $25 gift certificate
Mariott
12,600 points     $100 gift certificate
9,100 points       $75 gift certificate
6,850 points      $50 gift certificate
United
10,100 points      5,000 MileagePlus Miles
5,200 points       2,500 MileagePlus Miles
For example, $500 in spending would earn 25,000 points, which can be redeemed for $175 in Hyatt gift certificates, $200 in Marriott gift certificates, or almost 12,500 MileagePlus Miles. Clearly, it's not as lucrative as the previous offer, but if you were planning to purchase through OpenSky anyway, it's still a solid deal.
Please note my previous warning that MyPoints did shut down my account without an explanation, so proceed at your own risk. I also suggest you redeem your points as soon as they become available.
If shopping isn't your thing, you can earn MyPoints by taking part in surveys and participating in BzzAgent campaigns. You will get invited to campaigns based on your profile and earn points redeemable with MyPoints by completing campaign activities (i.e. tweeting about products, posting on Facebook, reporting feedback to BzzAgent).
BONUS: If you sign up for MyPoints using a member's referral, you both earn 750 points after your first purchase of $20 or more. Please comment below if you need a referral, or if you would like to refer others to the program.
Subscribe via email for more points, miles and free travel