Before going on a downhill spiral, my week started off on a positive note with news that Office Max was offering discounts on Visa gift card purchases. I went to the nearest Office Max store, where all they had left were four $200 gift cards. I bought them all and was happy to get $10 off each card. The savings covered the fees on the $1,500 worth of gift cards I purchased at the Safeway store next door.
Next, I walked to the Rite Aid store down the street. In the past, this location allowed me to purchase PayPal My Cash  Reload Cards with a credit card. This time, the cashier said it wasn't allowed and confirmed it with a manager. While this was disappointing, I do have plenty of other sources for gift cards, so it's not a big deal. On my way home I went to a Walmart store, where I purchased a $700 money order for $0.55 cents before calling it a night.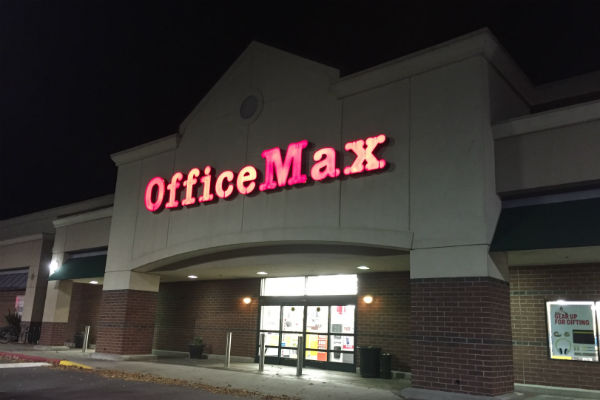 Later that week, my sister and I drove to Palo Alto to visit a family member in the hospital. We stopped at a Walnut Creek Office Max, which unfortunately was all out of gift cards. My sister is very supportive of my manufactured spending activities and was willing to make multiple stops on the way, but it was important for us to get to our destination, so I decided to do the considerate thing and put all ms activities on hold until we made it to Palo Alto.
During the drive, I did learn something invaluable from my sister – she showed me that the Google Maps app lets you essentially build a manufactured spending route. You enter a destination along with any stores you're looking for on the way there (i.e. Walmart, CVS, Office Max). The app will then map out all the stores on the way to the destination, along with directions. 
After our visit to the hospital, we stopped at a Menlo Park Safeway store. My brother accidentally purchased two Vanilla Visa gift cards, which I couldn't unload except to purchase Metabank Visa gift cards. The cashier at Safeway wanted to see the card I was paying with and hesitated when he noticed it didn't have my name on it. I assured him it was fine since it had a PIN number. He reluctantly accepted it.
Next, I walked to the CVS across the parking lot, where I picked up two Paypal My Cash cards. I told the cashier I wanted to split the payment across two cards. I tried to use the Vanilla Visa as a debit card. That transaction didn't go through and the cashier informed me it was because Paypal My Cash cards had to be purchased with either cash or credit. That's the first time I've ever heard that.
She let me run the card as credit and she had no objections to the fact that my name wasn't on it. After swiping the Alaska Visa for the remaining amount and showing it to her, she exclaimed, "You should have used this for the entire purchase so you could earn more miles!" I loved that for once the cashier was calling me out for not using a credit card for a gift card purchase. It was getting late, so CVS became the last stop on my manufactured spending route that day. 
Thanksgiving happened (tons of food + 50 people = lots of dishes for me to wash because I'm otherwise useless in the kitchen), followed by three days of hell. I woke up on Friday to find my laptop wasn't working. I called Apple support, wasting several hours on the phone until they told me to go to the Apple store. The closest Apple stores didn't have any appointments until Tuesday, so I headed to Roseville instead.
I figured I could fix my laptop, visit my sister, and make a few Walmart runs. That is, until the Apple store employee told me my hard drive had failed. The tech guy he referred me to wanted $500 -$3,500 to recover the data. I found a local place that offered to do it for a fraction of the cost and they picked up my laptop an hour later. 
The technician later asked me to drop off my new laptop in Natomas so he could do some more troubleshooting. So I figured I could stop by a few Walmart stores in the area. After dropping off the laptop and making two Walmart stops, he told me it would take six more hours to recover all of my files.
I used the Yelp app to see which Walmart stores I'd encounter on the way home – there were a lot! When the GPS guided me to a creepy, unlit backroad, I decided to call it a night and drive home. I'm practically blind at night and misplaced my glasses about five years ago, so it was the responsible thing to do. I also thought I had a flat tire. With the universe already conspiring against me, I didn't want to add being found in a roadside ditch to my list of recent misfortunes. 
That pretty much explains my lack of manufactured spending and being MIA for nearly a week. What have you all been up to?
Subscribe to Blog via Email