Shortly before I returned from Europe, I received reports of issues with Giftcards.com orders. Apparently there are a myriad of problems related to certain card designs. Ordering them results in gift cards with flat numbers (not a big deal) that are issued by Sunrise Bank. I still haven't figured out which designs get issued by Sunrise Bank. However I picked the owl and sunflower cards, which were both issued by Metabank.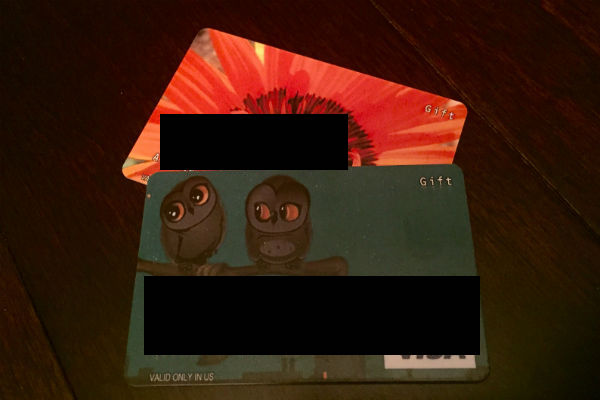 These cards cannot be unloaded at Walmart via money orders, so you definitely don't want to end up with these cards. There were also issues reported on Flyertalk related to card activation as well as gift cards arriving in separate envelopes. I experienced most of these issues myself after placing my first order following a month long hiatus. It has to do with some system changes giftcards.com has undergone recently.
After a couple of orders were cancelled, I finally received my first batch of gift cards in the mail yesterday. I had purchased just under $2,500 worth of Visa gift cards for myself and another $2,000 for my dad. Both arrived at the same time, but right away I noticed a few things were off. One of the gift cards in my order was mailed out in a separate envelope and the packaging slips looked different. I tried to activate them using the Giftcards.com app but would either receive an error message or the balance would show up as $0. I got on the phone with a few different Giftcards.com reps, none of whom were the least bit helpful. One started opening up a case before he even heard the whole story and two others insisted the cards did in fact have the appropriate balances on them.
One phone representative explained that some of the cards were not properly activated via the app. She wasn't able to activate them on her end, but recommended I do it via the phone system. This was a bit of a hassle but I ultimately got through all of the cards. When I checked the balances on the Giftcards.com app afterwards, each was showing the correct balance. 
Figuring all of this out took about an hour of my day but going forward, I at least know the process and how to navigate around some of these issues. I'll have to contend with having to activate gift cards over the phone and re-checking to make sure the balance is intact on each one. On the plus side, under the new system, all PIN numbers are automatically set to the last four digits of the card. This does save me some time because now I don't have to re-set each PIN individually. Hopefully the mobile app gets updated soon and the process of buying and liquidating these gift cards goes back to being fairly simple.
Have you had issues with Giftcards.com orders recently? Please share your experience in the comment section.
Subscribe to Blog via Email