I visited my sister last week and it was a very good trip. Not only because I got to spend time with her and my nieces, but it was productive in terms of manufactured spending. I unloaded a ton of Visa gift cards thanks to her help and finally beat that cough I've been battling for months.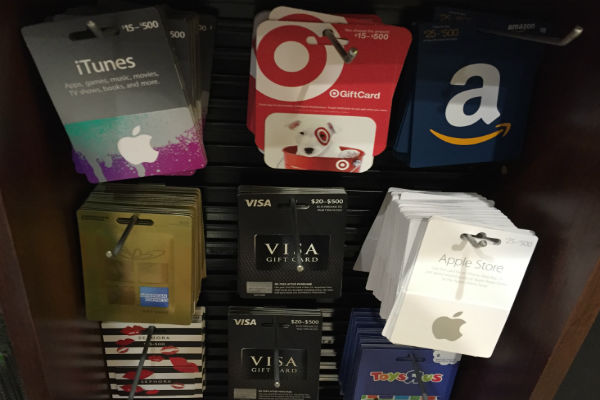 Over the past few weeks, there have been times when I've passed Walmart stores and didn't feel like going in. I've been buying Visa gift cards at Safeway whenever I've shopped there, but other than that it's been pretty quiet on the manufactured spending front. When I visited my sister, I brought my stash of Visa gift cards with me just in case. She not only encouraged me to unload them, she offered to help. "I'll take you to as many Walmart stores as you want" – that's becoming her tagline.
In the afternoons, we'd get into her car and drive around to different Safeway, CVS, and Walmart stores. I'd get out, buy some money orders, then she'd go out after me and do the same. The kids would doze off for their afternoon naps and we'd get our work done. Two birds, one stone. We unloaded about $5,000 worth of Visa gift cards (mainly in $200 or $300 denominations), and I purchased another $4,500 worth of Visa gift cards and Paypal My Cash Reload Cards. I even got to cover the cost of some of these gift cards with a winning lottery ticket…$16! I would make some lame joke here about not quitting my job, but I already did that.
In all, we did about $10,000 worth of manufactured spending and I felt like I was on a roll. On my way home, I stopped at my local mall to pick up some Metabank Visa gift cards. The last time I did this was almost two years ago, when Kendra from Points and Pixie Dust was in town and we decided to do an ms run. At the time, the paperwork and low purchase limit put me off and I never went back. However, I figured even if purchase limits were low, this was a good way to diversify credit card spending. So I went to the customer service center and filled out the paperwork to buy $5,000 worth of Visa gift cards.
I made a comment about how I hoped my card wouldn't get declined. The representative said that if this happened, she wouldn't be allowed to run it again – even if I spoke to the bank afterwards to clear the transaction. I'd have to try a different card. This is the exact opposite of my local Safeway's policy. They won't let me use a different payment method in case of a decline. I decided to play it safe and call Barclays before running the card, which worked out well.
While ringing up the transaction, the representative explained that several people in the area buy gift cards on a regular basis. Furthermore, she's totally aware of the reason (apparently we're known as "gamers" in their circles). She even asked me what I was planning to do with my miles. She thought the whole thing was great and encouraged me to come back and clean out their Christmas themed gift cards, since nobody was buying those anymore.
I went back the next day, intending to max out the full $9,500 daily limit. I was glad to see the same rep working the desk. In my experience, credit cards with chips incite fewer fraud alerts, so I was surprised when my dad's Barclay Arrival Plus card got declined. The rep told me she'd break the aforementioned rule and run the card again if I wanted to call my bank to clear the transaction. When I told her I left my phone at home, she pulled out the landline and told me to use it. "Once we know you, you get privileges around here".
I called Barclays, confirmed the transaction through the automated service and tried again. The card went through! I walked out with $9,500 worth of Visa gift cards at a cost of $75.05. I earned $201 worth of travel credits on my Barclay Arrival Plus card – a profit of $125.95.
After this, I hung around Starbucks to work for a bit and then went to two Walmart stores nearby, unloading $4,000 worth of gift cards. This brought my stash of money orders to around $9,000. I'll be using part of this stash to pay off credit cards at bank branches and the rest I'll deposit into my checking account.
I did pretty well this week and my focus on gift card churning helped take my mind off the fact that I lost out on a job I really wanted. If anything, I think churning gift cards with a 2% cash back card is a better use of my time.
Subscribe to Blog via Email