Update: iConsumer has lowered their Giftcards.com payout to 0.8% cash back.
There's nothing like a trip to Canada to make you appreciate what you have back home. I don't care that they have universal healthcare. I'll take great ms opportunities over free healthcare any day. After spending a week in Ontario and witnessing the incredibly depressing manufactured spending scene, I went on a massive spending spree. I didn't really keep track of numbers or have time to document it all. But by my best estimation, I've purchased and liquidated over $40,000 worth of gift cards over the past two weeks.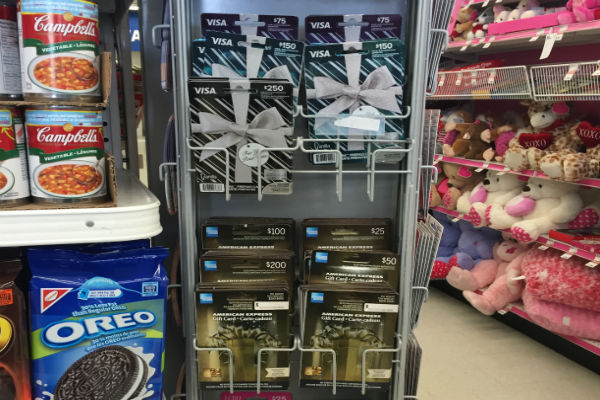 This past week alone, I made two trips to my local Simon Mall, where I loaded up on $15,000 worth gift cards. I was worried when reports surfaced that Barclays was coding Simon Mall purchases as a cash advance in some regions, but thankfully that wasn't the case for me. On one occasion, I brought my brother along and he picked up $8,000 worth of cards on his own without any issues. I did run into some trouble during the liquidation process, when the money center registers kept rejecting my Metabank gift cards for money order purchases. That issue was resolved a few days later, allowing me to burn through my remaining cards.
Another great gift card churning opportunity presented itself last week when Yazing began offering 2% cash back at Giftcards.com. When this deal ended, iConsumer brought back their 1.6% cash back offer, which was a great way to off-set gift card fees and bypass the time-consuming step of having to drive someplace to load up on gift cards. During these two promotions, I managed to place just under $10,000 worth of orders. As of this writing, iConsumer is still offering 1.6% cash back at Giftcards.com and I plan on placing at least one $2,500 order per day as long as the deal is still around.
Another way I loaded up on points and miles was by picking up a few new credit cards. After researching 2% cash back cards, I began to consider the Discover it Miles card as a serious contender. For one, I spent about $20 on wifi during my flight home, which could have been covered if I had the Discover it Miles card at the time. Cardholders get $30 worth of statement credits towards in-flight wifi charges every year – and the card has no annual fee! Additionally, the card pays out 3 miles per $1 on all spending during the first year (1.5 after that). Getting this card was a no-brainer, just based on the amount of manufactured spending I could do with it.
Next up was a second Alaska credit card, along with the Fidelity Visa and a Citi Business AAdvantage Platinum Select card. These all great cards that will give my mileage account a nice boost. Especially in time for one last redemption before the upcoming AAdvantage devaluation. I now have $6,000 worth of spending requirements to complete. That can easily be achieved with a few clicks of the mouse.
Not all was well, however. On Thursday I walked into my favorite Walmart store and wasn't surprised when a new cashier greeted me at the money center. However, something was off about this woman – she was much more self-assured than most new hires. I requested a money order and told her I'd like to split the payment across two debit cards. She responded in the sweetest tone possible, "Sure, honey….Can I just see your card?" I handed her my Visa gift card, hoping she wouldn't say anything, but she looked at it, then said in a patronizing tone, "You see…this is a gift card. We cannot accept gift cards for money order purchases. You see, money orders are like cash and you can't turn gift cards into cash". Rather than argue with her (which is always pointless) I feigned ignorance and left.
I'm pretty disappointed to have lost this location, but I take solace in knowing it's temporary. Chances are, in a few months the revolving doors will work their magic and there will be a whole new set of clueless staff working the money center. Plus, there are a ton of other options in my area. There are four other Walmarts within a 10-mile radius (a fourth location just opened up). And there's a cluster of easy Neighborhood stores 20 minutes away where the cashiers don't care how many money orders I buy. It might just make sense for me to drive there once a week and liquidate a ton of gift cards with minimal hassle. That will have to wait for a few days while I wait for my Giftcards.com order to arrive…
How much manufactured spending have you done over the past week?
Subscribe to Blog via Email