My week started on Tuesday, when I picked up a $500 Visa gift card at a local Safeway store after hearing rumors of Safeway pulling Visa gift cards off the shelves. The transaction went smoothly and I thought that was the end of it. Then emails started flooding in. Safeway stores around the country had removed variable load Visa gift cards completely from their shelves. I went back to my local Safeway store and while the gift cards were still there, the cashier assisting me had trouble ringing it up. It finally worked when we lowered the purchase amount to $450. I did go back yesterday and while one gift card remained on the shelf, the cashier informed me that Visa gift cards were no longer in their system, so I couldn't even purchase it. That's the end of it, I guess.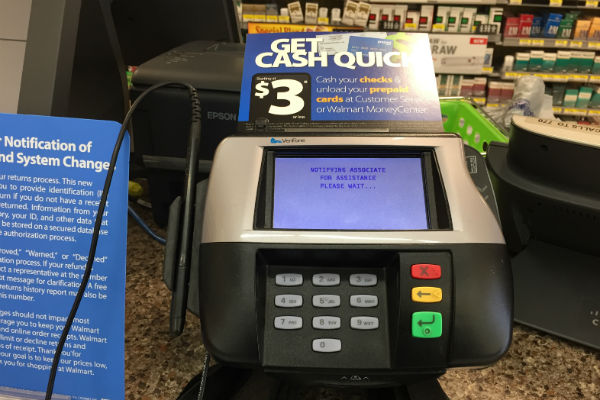 Aside from this hiccup, I had a pretty good week. On Thursday, I took my brother along to buy gift cards and liquidate a few of them. The plan was for him to buy $9,500 worth of Visa gift cards with his Barclay Arrival card, and for me to pick up $4,000 using my dad's Citi AAdvantage card (on which I'm an authorized user). I had him call Barclays ahead of time to ensure the transaction would go through. Which of course it didn't because Barclays likes to make things difficult for me. Luckily, I brought along his SPG Amex card (which I was holding onto for some online purchases). That card went through – no pre-authorization call needed. 
My mall gift card rep and I have a good rapport. She always asks me about my never-ending cold (which recently came back with a vengeance), what kind of trips I'm planning, etc. She gave us forms to fill out for some Super Bowl giveaway and while I don't usually enter these things, we both filled it out to be polite. And to pass the time, because ringing up 27 gift cards takes a while.
A line began to form behind us and the service rep asked if they were picking up their AAA coupon books. She handed them out and they left. Except for one customer, who turned out to be a blog reader and recognized me from my photo. He was on a pretty impressive manufactured spending run and shared a money order source with me. Needless to say, I'll be making fewer trips to Walmart going forward.
But not on that day. After my brother and I left with our combined $13,500 in Visa gift cards, we stopped by Walmart and unloaded $6,000 worth of gift cards. Ever since, I've been unloading $2,000 – $3,000 worth of gift cards daily on my own. I also just got another $3,600 Visa gift card order in the mail, which will keep me busy all week long.
I've been wrestling with the idea of getting an American Express Serve card ever since The Shutdown (during which I didn't have any open prepaid accounts). It would make my trips to Walmart more efficient. But it may also be a waste of time since any accounts I open are bound to get shut down anyway. If they don't, it will be because I'll be using them sparingly, and what good is that? Things are fine the way they are at the moment.
Another leap forward came about when a reader tipped me off to a potentially lucrative manufactured spending opportunity. A cash back portal called iConsumer is offering 1.6% cash back at Giftcards.com. While the card fees are high at $6.95 and there's an extra $1.99 shipping fee per card, the majority of the fees are off-set by the 1.6% cash back. For example, I placed an order for three cards, which came to $1,526.82 total. Most cash back portals don't offer rewards on fees. So I'll likely earn 1.6% cash back on $1,500, which comes to $24. That wipes out most of the $26.82 worth of fees on this order. Earning 1,500 miles at a rate of $2.82 is pretty hard to pass up.
Now I have no idea whether iConsumer is reliable or not, but I thought it was worth testing out. I charged the purchase to my Barclay Arrival Plus World Elite MasterCard. So even if the portal doesn't pay out I can off-set the fees with the 2.1% worth of travel rewards earned from the card. I'll provide an update once the cards arrive and I'm able to liquidate them. If you're new to iConsumer, here's my referral link. Apparently the company not only offers cash back, but also company stock. New members get 100 shares for joining and another 100 for referring others. In light of what happened with Big Crumbs/MainStreetSHARES, I would take this last bit with a grain of salt.
Subscribe to Blog via Email