If you didn't visit the blog last week, don't worry you didn't miss much (other than a Watts Riot-type situation). Thank you to all the readers who emailed, DM'd, and left comments on various posts. Your support and positivity are appreciated. Some of you expressed concern that I would stop blogging, which I assure you is not the case. Things happen, people get mad and hopefully we're all shallow enough to get over it one week later. Now, let's get into last week's manufactured spending activities before visiting hours are over…
Last Tuesday, my sister came to town and we did our usually routine: Head to Starbucks for a few hours of productivity, grab lunch, then run errands – which includes buying money orders. On this particular day, we went to two Neighborhood Walmart stores, which are just three miles apart. She unloaded $1,000 at each store, while I did $2,000. I also occasionally purchased money orders anytime I was in the immediate vicinity of a Walmart store.
A few days later, following an afternoon of procrastination at Starbucks, I walked across the street to Walmart to unload my last two gift cards totaling $800. At this particular location, they have such a large staff pool on rotation that I never seem to run into the same cashiers more than once per week. Another odd thing about this location? Nearly everyone working at the money center seems to have a management title (except for the occasional trainee). While the transaction was processing, I caught bits and pieces of a conversation between the two cashiers. They were discussing a man who had apparently  just left:
Cashier 1: "You know that guy that always comes in here?"
Cashier 2: "Older white guy or young Indian guy?"
Cashier 1: "Young Indian guy. Greg said to cut him off. No more money orders."
Cashier 2: "He was just in here. Why are we cutting him off?"
Cashier 1: "He comes in all the time and…he has to do the paperwork if he wants to keep buying money orders. He keeps trying to get around it. So Greg said no more."
It seems this guy was avoiding filling out paperwork by making multiple trips to the same location every day and spending less than $3,000 each time. Along with paperwork, customers have to provide their Social Security and driver's license number. This information is kept in a binder somewhere. Needless to say, I don't blame the guy since this seems far from secure. I felt bad for a fellow ms'er, but glad that the cashiers were having this conversation in front of me. Which means they haven't identified me as a frequent customer who more or less does the same thing.
Aside from unloading money orders, I also ordered $2,500 worth of Visa gift cards from giftcards.com with my Alaska Airlines credit card along with another $2,000 order using my brother's Barclay Arrival card. The card was declined when he tried to purchase $9,500 worth of Visa gift cards a few weeks ago. Since I'm trying to build up his point balance (and can't trust him to do it himself), I thought this was a good solution.
For those of you wondering, the $1,500 order I placed last week arrived on Friday, which was a lot faster than I had anticipated. What's more, the purchase was in fact tracked by the iConsumer cash back portal and the 1.6% cash back is showing up as pending. While I assumed the 1.6% cash back would not be applied to gift card and shipping fees, I was pleasantly surprised to find that it was in fact applied to the entire purchase.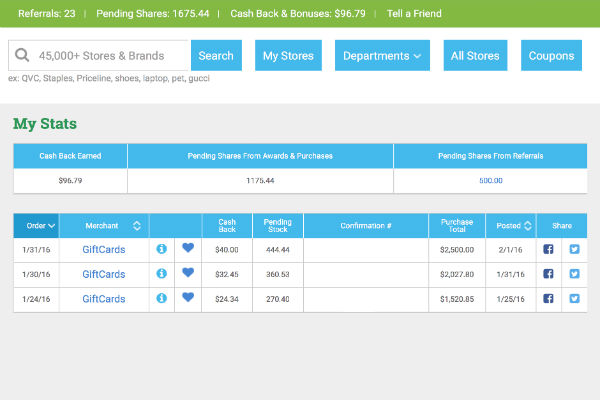 According to the iConsumer FAQ page, it will take 90 days for the funds to become available for withdrawal, so it will be a while before I see any of that cash and can call the points earned from this transaction "free." 
iConsumer has since reduced the payout on giftcards.com purchases to 0.8% cash back. A $2,507.45 order would generate $20.05 in cash back. That brings the cost of $2,487.40 worth of gift cards down to $2,465.25, meaning you're paying $4.43 per gift card. That's higher than the normal $3.95, though some people will appreciate not having to leave the house to buy gift cards. Personally, I wouldn't continue purchasing gift cards online at 0.8% cash back. Now that I know my transactions have been tracked, I'll at least check into iConsumer occasionally to see whether they've increased their cash back offer.
Now for the $40,000 question: What did I do with all those money orders purchased this month? I'm happy to report no felonies were committed. This was the first time in many months that I've had more than $5,000 worth of money orders left over (largely due to prepaid cards and low volume gift card churning). Around $15,000 went towards paying off several Chase Ink Plus cards. $3,500 went towards two Bank of America credit cards. The remaining money orders were deposited and used to pay off a Barclay Arrival Card, SPG Amex, Barclay Aviator Red Card, and Citi AAdvantage card. 
This month, I plan on doubling my numbers in time for a pre-AAdvantage devaluation award. My goal is to complete the spending in two weeks or less, then head off on a much needed break. Location TBD, but I prefer some place cold and rainy (without metals bars or concrete walls)…
How was your week?
Subscribe to Blog via Email