I hope all of you had a great New Year's Eve. I spent mine at the Hyatt Regency San Francisco, which has the absolute best views in the city of the fireworks display. I'm not a fan of standing out in the freezing cold surrounded by a crowd of potentially homicidal drunks. So I appreciated being in a warm space with tons of great food and a direct view of the Bay Bridge. I highly recommend this to anyone considering ringing in 2017 in San Francisco.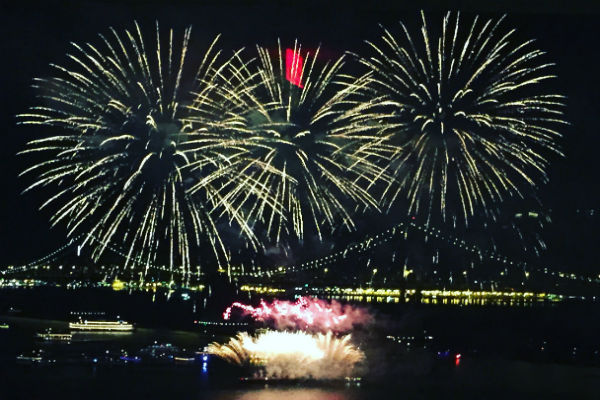 I was in San Francisco for two nights (one of them at the Grand Hyatt) and intended to get a lot of manufactured spending done. Unfortunately, this turned into a less than fruitful outing. San Francisco was pretty much a ghost town and things were off to a bad start. I pulled up the Yelp app to find nearby CVS, Walgreens and RiteAid locations. This was one incident in which having an Android phone would have come in handy. 
I found a Walgreens store nearby, so I walked out there, thinking I'd at least pick up a couple of PayPal My Cash Reload cards. I picked up two, but the cashier claimed I could only buy one card per day. She didn't swipe my drivers license or anything, but still enforced the one per day rule. Then I walked out to Market Street, which has more drug stores than end-of-world preachers lining the sidewalk. I tried my go-to CVS store, which had nothing except Vanilla Visa gift cards. I walked to a 7-11 a couple of stores down, which used to be a great spot for picking up PayPal My Cash cards. It was completely out of anything useful I could buy. 
Next, I walked to the Office Depot store on Kearny, which had tons of gift cards. However, they were all small denomination Vanilla Visas. Now these types of cards can be loaded onto the Amex Serve prepaid card at certain stores, but I don't even have mine yet. I'm finally approaching 30 days since I closed all of my Target Prepaid REDcard accounts, but in the mean time I've tried to get a Serve card three times, each time receiving notice that I already have an account and can't open up a new one. I'm aware that all it will take is a phone call to get this resolved. But lately I have zero patience for spending more than 5 minutes talking to a customer service rep about anything. So I'll just wait until the 30 days are up and hope the problem goes away.
I struck out at a couple more drug stores before I headed back to the Grand Hyatt. I've had this awful cough that's been killing me for the past month. Spending too much time out in the cold becomes intolerable. If anyone has a remedy for a persistent cough (other than drinking Mucinex, which works but tastes like laundry detergent), I'm all ears.
This is probably the most pathetic manufactured spending run I've ever been on. It's also tough to muster up the will to keep going after taking such a long break. This week, I plan on ordering some Visa gift cards. I'll even head back to my local Simon Mall to stock up on cheap gift cards. At some point I need to sit down and figure out how many miles I need for various trips I'd like to take this year.
I'll probably use some of my AAdvantage miles for a trip to Europe during the off-peak season. I've been in touch with a couple of NPO's that serve Greek and French refugee camps, so I'd like to get involved on the ground if I can find the time. And if I can find a flight this Thursday (one that doesn't conflict with a job interview I have that afternoon but still gets me there in time), I'd like to attend the New York Times Travel Show this weekend, which will easily help me burn some soon-to-be-devalued miles.
I always hear complaints about how tough it is to manufacture spend in New York. So if you're from the area and have any tips to share with me, I'd appreciate it. Hopefully that outing will be more productive than this most recent one.
Subscribe to Blog via Email