It's been a very unproductive week in manufactured spending for me, largely due to jury duty. I was one of those insane people who thought jury duty would be fun. It started off as entertaining and then became the most excruciating, frustrating, cringe-worthy thing I've ever witnessed. And it didn't help that it went on for three full days and kept me from my manufactured spending duties. 
After this 3-day torture fest came to an end, I dedicated an entire day to Walmart-hopping in order to liquidate some of the gift cards I'd acquired the previous week. I'm happy to report my Chase Ink Plus replacement card has finally arrived, though I haven't been able to try my luck at any OfficeMax or Office Depot stores yet. In the meantime, I've been liquidating my stash of Visa gift cards from the previous week.
I was in the Davis/Dixon area on Halloween, where things got off to a scary start – I tried to purchase a $998 money order using two Metabank Visa gift cards and the transaction was declined with the pin pad showing a "unable to accept card type" message. I confirmed with the cashier that she had selected the split payment option and specified $500 for the first card. She confirmed it, so I tried another card but got the same message. She pointed out that if I was using a gift card, that is likely why the register was rejecting the transaction.
I stopped at another Walmart and had no problems using the same two gift cards for a split payment transaction. Some of you have been asking me why I never use KATE to purchase money orders and it's because I haven't found a working kiosk in over a year. Even at the locations I visited on Saturday, the kiosks were out of order.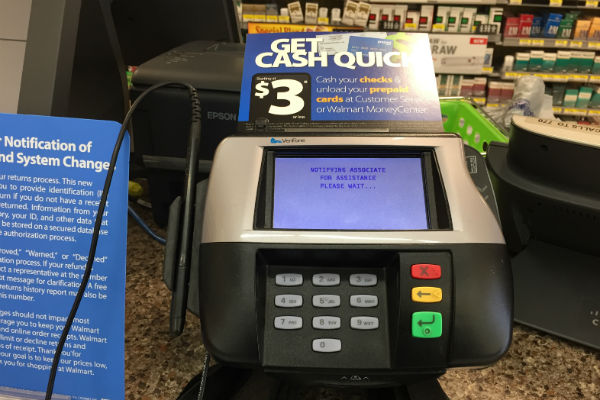 Neighborhood Walmart stores now allow customers to call over customer service reps with a simple tap on the PIN pad. That makes buying money orders a bit more convenient because it cuts down on wait times. A lot of times the customer service center at Neighborhood stores are deserted. So being able to get assistance with a simple tap of the PIN pad is very useful. And so unlike Walmart!
On my way home, I picked up $9,000 worth of money orders. I proceeded to deposit them into my checking and savings accounts. I recently opened a Wells Fargo checking account, which is going to be very useful in liquidating money orders since the branch is right inside Safeway, where I've been going to stock up on $500 – $1,000 worth of Visa gift cards every other day or so.
A good thing that came about this weekend was me finding another Neighborhood Walmart store within reasonable driving distance. It's actually pretty close to the one I normally go to and there's a CVS across the street. I find very little use for CVS now that I can't load their Vanilla branded Visas to Redbird anymore, but I do occasionally pick up a PayPal My Cash Card, which I expect will to end any day now.
On Sunday, I went back to my normal Neighborhood Walmart and encountered the same issue I'd experienced at the Dixon store. Split payment transactions kept getting rejected. Oddly enough, an Assistant Manager was processing the transaction with the help of a Customer Service Associate. She even showed her how to process a split payment (entering $500 for the first card). The transaction kept getting rejected even when I used a different card. It did go through when I cancelled the $999.30 money order purchase and opted for two separate money orders for $499 each. This meant I'd be paying the $0.70 fee twice, but at least it worked.
That was pretty much it for me this week. I'll do a bit more manufactured spending next week and will hopefully not encounter some of the same issues I ran into. Someone recently remarked that I have the worst luck with manufactured spending sometimes. I certainly hope it's just that and not yet another instance where an issue like gift cards being rejected for payment end up foreshadowing the death of yet another manufactured spending tool.
I'd love to know if you've experienced any issues at Walmart lately when trying to split payments on money order purchases. Please share in the comment section.
Subscribe to Blog via Email