I may need to rename this series because these days it seems like the only time I'm actually doing any manufactured spending is on weekends. The week before last, I was preoccupied with jury duty. Last week I spent three days visiting the offices of a social media company in San Francisco. A commute that used to take an hour and a half tops, now takes over two hours. When I got home at 7:30 PM every night, I definitely didn't want to go to Walmart. Or anywhere else for that matter.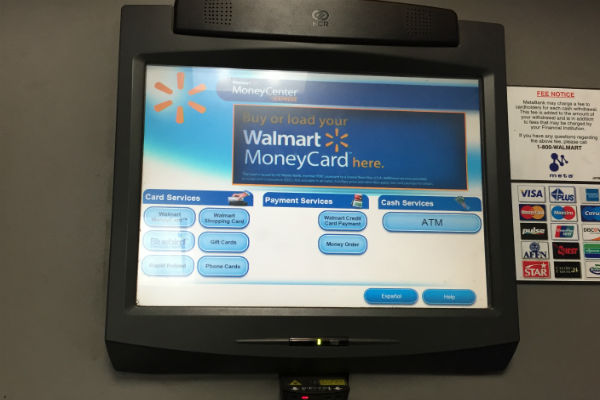 I did manage to purchase about $3,000 worth of Visa gift cards at the beginning of the week, while liquidating $1,000 via money orders. I had a brief moment of hope on Monday, when I found a working kiosk for the first time in over a year. Back in the day, this particular machine sold money orders in $200 increments. Since the line was long and I had a few $200 Visa gift cards on hand, it was the perfect opportunity to give it a try. Of course, my hopes were dashed when I selected "Money Order" and this message came up: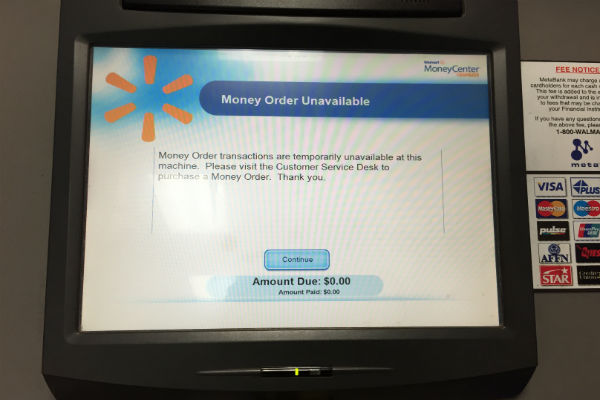 Wednesday through Friday were spent in San Francisco and while I didn't have much time to buy or liquidate gift cards, I loved being able to stop by Phiz Coffee every morning for a Mint Mojito Iced Coffee. I also got to catch up with Kendra from Points and Pixie Dust, whom I randomly ran into outside the Embarcadero BART station before grabbing lunch at The Deli Board – if you live or work in the area and haven't been to The Deli Board, go! I'm usually not big on sandwiches but the FAY is literally the best turkey sandwich I've ever had. I might just skip Thanksgiving dinner and have a sandwich at The Deli Board this year.
Saturday was pretty much the only other productive day I had. I went out to a bunch of Walmart stores and came away with around $6,000 worth of money orders. Remember the scary Halloween moment I wrote about last week? It repeated itself at the same Dixon location last week!
I was sure the cashier had made a mistake on the split payment option the previous week. So I decided to make things easier and just buy a $499.30 money order using a $500 Visa gift card. This way, the entire purchase would go on one card and there would be no room for error. Except, when I ran the card, the same error message came up (something like, "Unable to accept card type"). I tried another $500 gift card and the same thing happened.
I stepped aside to check the card balance, thinking I might have accidentally used a card that had already been liquidated. Except that wasn't the case. If you've been to the Dixon Walmart and had this happen to you, please share so we can confirm they are indeed hard-coding registers to reject Metabank Visa gift cards for money order purchases. I had better luck elsewhere, particularly the two Neighborhood Walmart stores on the way home.
Sometimes I end up with odd balances on my gift cards (i.e $0.30 – $5). So I load those onto my Starbucks card. Except, the cashier at my local Starbucks claimed I couldn't "use a gift card to buy a gift card". I told her I wasn't buying a gift card, I was just loading the equivalent of small change from what is supposed to be treated like a credit card onto my Starbucks account. Her co-worker ok'ed it, so she proceeded to unload eight of my "spare" Visa gift cards onto my Starbucks account. I mentioned how someone told me I had the worst luck when it comes to manufactured spending sometimes. If Starbucks baristas turning me down isn't proof of bad luck, I don't know what is.
Of course, that wasn't the end of it. I went to my local Safeway store to pick up some essentials and decided to get two Visa gift cards while I was at it. About three weeks ago a manager confirmed that credit cards were acceptable payment forms for variable load Visa gift cards. However, when the cashier asked me how much I wanted on the cards, she added, "You do know you have to pay cash for variable load gift cards, right?" I told her I've always been able to use a credit card for gift card purchases. She claimed the policy was cash-only. There's no sense in arguing with a cashier, so I just cancelled the gift card transaction and decided to come back another time.
Someone recently called me the "Queen of manufactured spending" (every little girl dreams of that title), but I may have to give up my crown thanks to these low numbers. Especially, when you compare them to what FPT Gift Box managed to do recently. I definitely have some catching up to do!
What have you done this week to earn more points and miles?
Subscribe to Blog via Email