Update: Thanks to reader Paul for the heads up. Evolve has notified users via Twitter that the issue with master card gift cards has been resolved.
Yesterday I wrote about getting snubbed at Walmart and Target while trying to use gift cards to reload a prepaid card and buy a money order. I mentioned using Evolve Money to unload some of my Visa gift cards and thought I'd elaborate on how that works.
Evolve is a free bill pay service that allows users to pay participating merchants with a debit card or a "cash" option. When you choose cash, you're given the option to pay with Evolve Pay Bucks or ReloadIT cards.
What makes this service appealing is the fact that you can use your Visa gift cards to pay your bill. If you think this is shady behavior that is bound to get shut down – an Evolve rep on Flyertalk has made the following statement on the forum: "We are committed to providing our customers the ability to pay their bills with gift cards."
Before giving it a try myself, I'd read about how their bill pay network was limited. I was pleasantly surprised to find that I could pay pretty much all of my bills with the service: My student loans (Sallie Mae), PG&E, cellphone and internet (AT&T, Comcast). What's more, most payments are processed within 2 days and some are processed the same day for an extra charge of $1.50. I made a payment to Sallie Mae on Friday and received confirmation on Saturday morning that the payment had been processed. That's faster than going through Bluebird or even paying through Sallie Mae's site directly, and I didn't even have to pick the expedited payment option.
If you're wondering how this works, it's simple:
1. Sign up by providing some basic information about yourself: Email address, mobile phone number, and zip code.
2. Once you're signed in, simply click on "add new bill" on your dashboard and search for your service provider.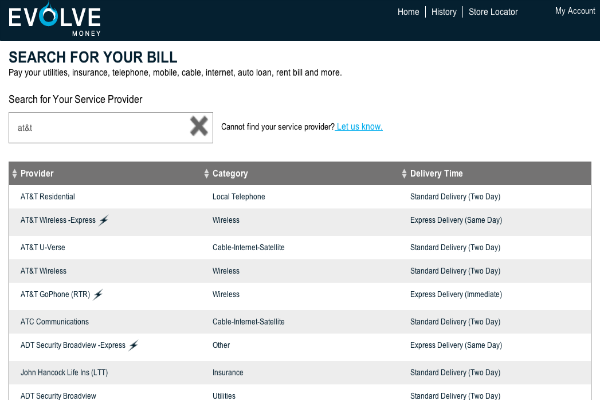 3. When you click on your service provider, you'll be asked to enter more detailed information than you provided at registration. This includes your name, account number and last 4 digits of your SSN.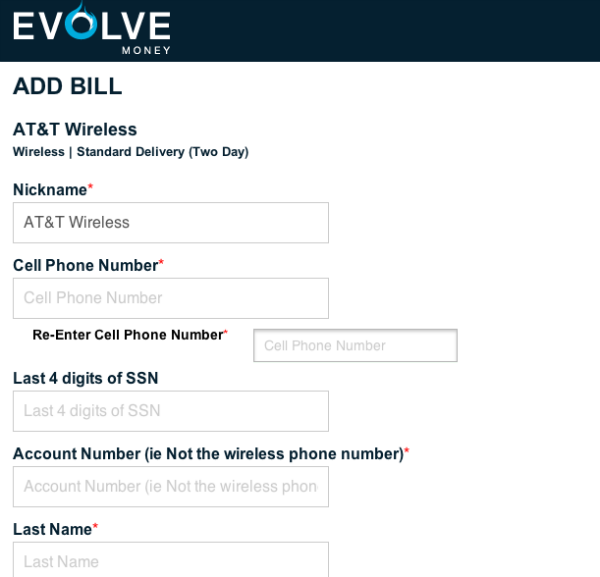 In the case of Sallie Mae, you'll be offered a variety of addresses to send your payment to. Make sure you pick the right one or your payment may not be processed. You can find the correct billing address by logging into your account and pulling up one of your billing statements.
4. Next, you provide your gift card payment information. You don't need to register your gift card prior to using it, so simply provide your mailing address under "billing address" and you're all set.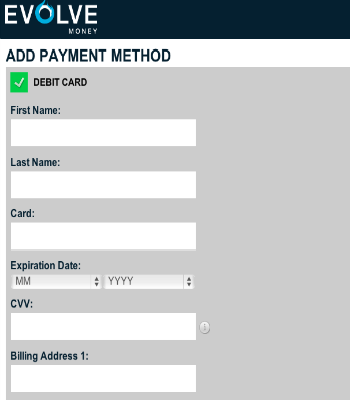 Potential Issues
1. You can't use American Express gift cards with Evolve. These are processed as credit transactions and Evolve currently only allows debit, Evolve Pay Bucks, and ReloadIT cards as payment.
2. When a bill is overpaid, the excess amount is applied as a credit to your Evolve account and you'll have to use it to pay another bill. Any plans to overpay a bill and ask your provider to send a refund check are not going to work.
3. There seems to be an issue primarily with using Mastercard gift cards issued by US Bank. I used Visa gift cards obtained through GiftCardMall and at least one payment has been processed without issues. [Update: Evolve has resoled this issue and Mastercard gift card payments should now be going through smoothly]
4. According to this Flyertalk page, if the payment fails, you may end up with a pre-authorized charge on your card that could take up to 10 days to fall off.
5. You may need to wait at least 5 minutes to pay the same bill twice. This is important to note if you plan on splitting large payments (i.e. mortgage) across different gift cards.
6. If you're making a mortgage payment, your bank may count payments via Evolve towards the principal and still require a payment.
Despite some of the reported issues, I would prefer using this for legitimate bill pay. Of course, I still have to go to Walmart to unload some of those Visa gift cards via Bluebird. Evolve just makes it easy for me to pay my bills in one place while allowing me to stay in the manufactured spending game.
If you haven't done so already, be sure to use promo code Save5april to save $5 on your next bill payment. The code expires today at 11:59 PM (PT).
Subscribe via email for more points, miles and free travel