As most of you know, I'm in Asia this week, traveling with my family to Singapore, Bali, then on to Hong Kong. The trip has been amazing so far and I can't say enough great things about the Conrad Bali in particular. I'm a Hilton HHonors Diamond member but rather than hope for an upgrade, I booked a Pool Suite for my parents to make their stay extra special. My brother, a Hilton Gold member, was upgraded from a standard Garden View room (booked on points) to a Conrad Suite. Our stay at the Conrad Bali has been nothing short of perfect, so I decided to extend it by another night. However, the Pool Suite wasn't available on our last night so the Assistant Manager offered us something better: An upgrade to the Penthouse Suite!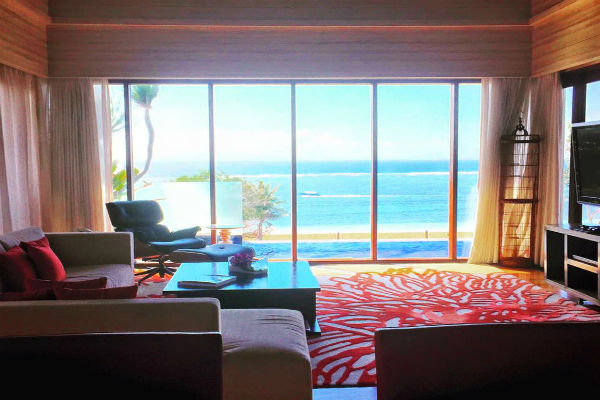 I had toured the room earlier in the day because I figured it would make an interesting post, especially since I was going to be reviewing two lower-level suites at this resort. Since we'd already been here for two days, the last thing I expected was to get upgraded further. But sure enough, it happened! 
This is by far the best upgrade I've ever gotten at a hotel. The Penthouse Suite has 3,660 sqft of indoor and outdoor space and a huge infinity pool. It normally goes for $4,500 per night. A long list of celebrities have stayed there, including America's sweetheart, Justin Bieber (#sarcasm).  Surprisingly, the only disturbance he caused was when he went out to the beach and got swarmed by screaming girls.
While my siblings and I are definitely going to hang out in the Penthouse Suite during the day, we're staying in our "standard" suite and letting my parents have the Penthouse. I'll have a full review of our stay at the Conrad Bali, including photos and how you can replicate this trip yourself. In the mean time, enjoy the preview and be sure to follow me on Instagram and Twitter for more on this trip!
Subscribe to Blog via Email