Last Thursday I headed to a Walgreens store near work in one last attempt to buy Vanilla Reload cards. I didn't see any on the giftcard rack, so I picked up a few MoneyPaks instead. Frequent Miler and The Points Guy both recently wrote about MoneyPaks as a way to fund your Paypal account and then your Bluebird card. 
MoneyPaks can also be loaded directly onto the American Express Prepaid card. Though this card lacks a bill pay feature, you can earn 6 points per $1 on your spending by purchasing MoneyPaks with your Hilton HHonors American Express or Hilton Honors Surpass from American Express. The trick is finding a drugstore that will accept credit cards for MoneyPak purchases.
When I got to the register, I noticed Vanilla Reloads hanging on the wall. There were just two left and I wondered whether the reason they were running low was because this store allowed people to purchase them with credit cards. I asked the cashier for the last 2 Vanilla Reloads and he in turn reminded me that I needed to pay cash for both cards. What about debit? Nope, cash only.
I was a little miffed that I had abandoned my work load to walk three blocks on such a fruitless quest. Right across the street I spotted a RiteAid and decided to check it out. To my surprise, they had MoneyPaks in stock with no fees and they accepted debit and prepaid cards. I was successful in using my Target Amex prepaid with a PIN. While I realize this isn't ideal, since you can use your debit card to load your Bluebird directly at Walmart, I think its a good way to diversify your spending so that your debit card provider does not get suspicious about all those charges you're making at Walmart. Of course, using a credit card with a high category payout is always a better choice, but this location does not accept credit cards. If you happen to find one that does (and has a $0 fee), please comment below.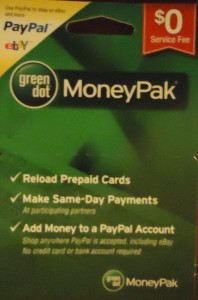 For those in the Bay Area who are struggling to find a place to buy Vanilla Reloads, this might be a decent alternative. You can buy MoneyPaks at the downtown Oakland RiteAid, save $4 in fees, and purchase them using either your debit card or prepaid card with a PIN.
What to do with a MoneyPak?
1. Load your MoneyPak to your Paypal Account, transfer the funds to your Paypal Debit card, and use that to either cash out part of the funds or for everyday spending. Keep in mind that when loading your MoneyPak to your Paypal account, you will be asked for your name, address, and SSN. This is because MoneyPak monitors deposits for criminal activity. So excessive depositing/withdrawing of funds will likely put you on their radar.
2. Load the MoneyPak onto an eligible prepaid card. The American Express Prepaid, Ameerican Express Pass, and Serve from American Express are included on the list of eligible cards.
3. Use MoneyPak to pay your bills. Click here for a list of eligible merchants, including credit cards, prepaid phone services, satellite services, wireless phone services, and more.
Have you found any stores in your area that sell fee-free MoneyPaks and/or accept credit cards? Please comment below.
Disclosure: I will earn a referral for the American Express Serve card link in this post.
Subscribe via email for more points, miles and free travel