If you're a regular manufactured spender, chances are you have a route: A list of stores where you buy or unload gift cards, mapped out in an efficient way, saving you time and gas when hopping from store to store. The way I created my regular manufactured spending route was by doing a Google search for local Walmart and Safeway stores. I was quite surprised to find two local Neighborhood Walmart locations I didn't know about, which have since become my favorite places to buy money orders. 
Once I gathered the list, I went to Google Maps and started by searching for one address and then selection "directions to" to incorporate additional addresses into the route. Once the map had been generated, I would move the addresses around to create a more cohesive route. I keep this route in a word document and enter it into Google Maps in that exact order. However, it's not exactly the most efficient method of creating a manufactured spending route and a few weeks ago, my sister showed me a better way using the Google Maps Android app.
The Google Map Android app has a feature that makes it a much more efficient tool for creating a manufactured spending route. Why? Because it allows users to enter a starting point, destination, and then map out every single store (i.e. Walmart) located in between. It doesn't have to be Walmart. You can search for Safeway, CVS, Riteaid, or any other stores that are essential to your manufactured spending strategy. This is perfect if you're taking a road trip or looking for a way to get some ms done on your way home from work. This feature of the app is currently only available on Android, though hopefully it will be added to the iOS version soon.
To generate a manufactured spending route with Google Maps, simply open the app and enter your final destination. Google Maps will generate a route with turn-by-turn directions. Next, tap on the three dots on the bottom right side of the screen. A white box will pop up with checkboxes and "mute," "traffic," "satellite," and "settings". At the very top is an option to "search along route". You'll be redirected to options to select gas stations, restaurants, etc., with "search for more places" located at the bottom. Here, you can enter the stores you'd like to find along your route.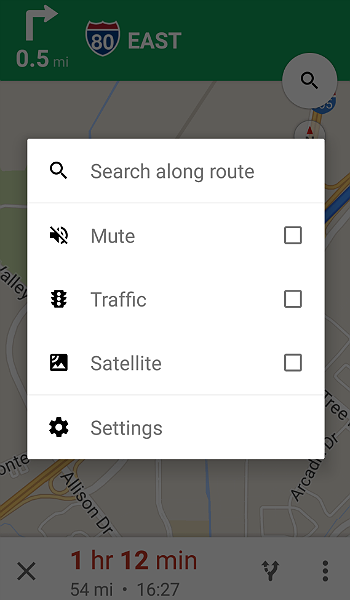 There you go. No matter how well versed you are in this game, you can learn something new from the most unlikely sources. My sister doesn't really do much to earn miles, except help me out every once in a while. Yet she taught me this valuable trick for generating manufactured spending routes. Granted, I have an iPhone and won't be able to use this until Google Maps becomes available for iOS. But maybe some of you Android users out there can make good use of it.
Are there any other maps apps out there that you know of which have this feature?
Subscribe to Blog via Email