Update: At 4:30 PM today, Yazing confirmed they are in fact still paying out 2% cash back at GiftCards.com, despite their listing showing only 1.5%.
Update: It seems Yazing dropped the payout prematurely. As of 3:50 PM, they're only offering 1.5% cash back at GiftCards.com. The next best alternative is iConsumer, which is once again offering 1.6% cash back on GiftCards.com orders.
I've had a pretty busy week in terms of manufactured spending. So much so, that  I haven't had a chance to write about it. Aside from my regular mall/Walmart runs, I've been ordering gift cards online through GiftCards.com. As some of you may recall, a few weeks ago iConsumer was offering 1.6% cash back on Visa gift card purchased from GiftCards.com. That was discontinued, but a quick search on Cashback Monitor turned up another cash back portal paying out on GiftCards.com – this one offering 2% cash back. This cash back portal, Yazing, is pretty new – in fact, they don't even have a dashboard showing your tracking and cash back activity. The various email confirmations I received stated that this feature would be on its way.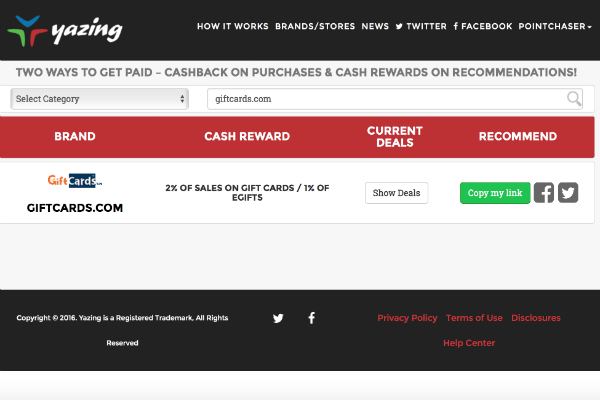 I placed one order to test it out, then received a message from reader Spencer is saying, he'd used it as well, reassuring me somewhat by saying the founder (Adam Viener) has worked with other cash back portals in the past. He also brought  the company's referral system to my attention. It's not your typical refer, sign-up, and earn bonus setup. Rather, every registered member gets a customized link for each merchant that they can share with others to earn commission. You can find this link by logging into your Yazing account and following these steps:
Hover over your name (upper right side) and click "shop and share."

Search for the merchant you want to refer people to.

Select the green button titled "copy my link"

Share with your friends
The down side of someone using your referral link is that they will not earn cash back on the transaction – only you will. So if you share your Giftcards.com link with your friend and he/she uses it to make a purchase, only you will earn the cash back. Why bother using this referral system if it only benefits the person whose link is being used? Because if you're like me and constantly purchase gift cards on behalf of family members, this is one less shopping portal account you have to set up.
For example, the other day I gave my link to my brother and had him order $2,000 worth of Visa gift cards for himself using his Barclay Arrival Plus card. I'm going to be the one liquidating the gift cards (and probably redeeming the miles), so it doesn't matter whether I earn the 2% cash back or he does – it's all going into the same point pool. It does make it easy for me because I don't have to sign him up for an account (or depend on him to do it). I could just use my shopping portal account for all orders, but I feel like after a while it might look suspicious, so I always set up separate accounts.
In any case, I've successfully placed two orders on Giftcards.com using Yazing and received confirmations that they went through. At one point, Spencer and I swapped referral links (before we understood how it worked). So it's possible one of those confirmation emails came from an order he placed with my link. Anyway, I've got my tracking confirmations from Yazing and hope there are no issues with the payout. It takes 30-90 days for Yazing members to get their cash back, which is paid out via PayPal. So make sure your Yazing email matches your PayPal account email.
If something goes wrong and the amount due is never paid out, at 2% cash back, I figure it's still worth it. It can wipe out all of the purchase fees and leave me with a stash of free miles. If not, at least I didn't invest too much cash and any extra fees paid were worth the convenience. The other day I got turned away at my favorite Walmart store because I was using a gift card to buy a money order – the only way to combat this (other than letting Walmart's high employee turnover work its magic), is to get gift cards with my name on them. Visa gift cards purchased from Giftcards.com solve that problem for me.
It's worth noting that starting tomorrow, Yazing's payout on Giftcards.com orders is dropping from 2% to 1.5%. So if you're going to get in on this, you might want to do so today.
Giftcards.com limits Visa gift card purchases to $2,000. The way I approach orders is to request three cards for $500 and one for $450. With card and shipping fees, the total comes to $1,985.25. Which means I'm paying $35.25 in fees and earning  $39.71 in cash back through Yazing. This eliminates the card and shipping fees, leaves me with a $1.66 profit after money order fees are factored in. Plus a minimum of 1,985 free airline miles. These are pretty small numbers, but across multiple orders you'll really start to see significant savings. With the reduced payout of 1.5% cash back, you still off-set the majority of the card and shipping fees. (The purchase limit for GiftCards.com Visas has been increased to $2,500).
Have you used Yazing before? Please share your experience in the comment section.
Subscribe to Blog via Email