Update: The Value Traveler spoke to a store manager at a VA Safeway and confirmed they're pulling gift cards due to issues with fraud. Several readers from around the country have also emailed to confirm their Safeway stores have pulled Visa gift cards.
The hits just keep on coming. Reader Holly just emailed me, saying her local Bay Area Safeway store was discontinuing the sale of Visa gift cards. Below is her account of what happened:
"I went to Safeway this morning and happened upon a store manager removing Visa gift cards from the rack. I tried (failed) to act nonchalant and asked her if Safeway was discontinuing gift cards, and her response was, "No, only the Visa ones". She showed me the memo and though I didn't get much of a chance to look very long, I saw Visa and Amazon. I think she said MasterCard, but I'm not certain. (FYI….the list was pretty long, so it wasn't just Visa.)"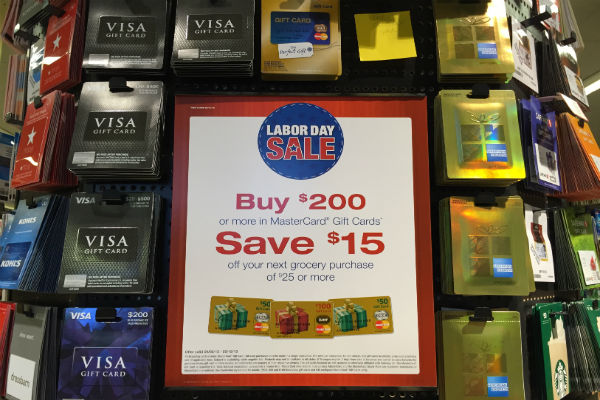 Since she mentions "the list was pretty long" I imagine it includes ReloadIT and other prepaid and reloadable cards as well. This is very bad news for manufactured spenders who have been using Visa gift cards sold at Safeway stores to meet credit card spending requirements or earn extra points and miles through credit card category bonuses. At times, Safeway has run cash back promotions that not only eliminated the fees on Visa gift cards, but even left purchasers with a small profit. It would be a real shame if that came to an end. If the aforementioned memo was sent out to multiple stores, a huge gift card churning source will be eliminated. I know many people in this hobby depend on it.
Upon hearing this news, I went to my local Safeway store. As I approached the gift card rack, a red flag went up. I noticed a ladder and then three rows of gift cards wiped out completely. However, upon closer inspection I noticed the ones on the top rows were still full. I don't know if the rest had been purchased or removed by store employees. I tried to buy one with my Barclay AAdvantage Aviator Red card to meet the $500 spending requirement for January, but my card got declined (I haven't used it in a very long time) so I opted to use my Barclay Arrival Plus World Elite MasterCard instead.
Everything seemed ok today. But that doesn't mean they won't clear out their racks tomorrow (if in fact, memos are being sent out). If you have a credit card spending requirement to meet and Visa gift cards from Safeway are your primary method of doing this, then I highly recommend you take care of it ASAP. This may be nothing – just a regional policy to remove Visa gift cards from Safeway stores. However, you might want to play it safe and bulk up on gift cards in case of a chain-wide policy.
Have you seen any Safeway stores removing Visa gift cards from the racks? Please share the location in the comment section.
Subscribe to Blog via Email