This quarter's IHG Rewards Club PointBreaks list is out and valid for stays between October 26, 2015 – January 31, 2016. Nearly 2000 hotels are included and available for booking at just 5,000 points per night. The full list of PointBreaks hotels is available on the IHG Blog, but I've gone through it and found what most of you are probably looking for: The Intercontinental, Crowne Plaza, and Hotel Indigo hotels. That being said, it doesn't hurt to check the list if you have an upcoming trip and see if you can save come cash or points by booking an IHG PointBreaks property: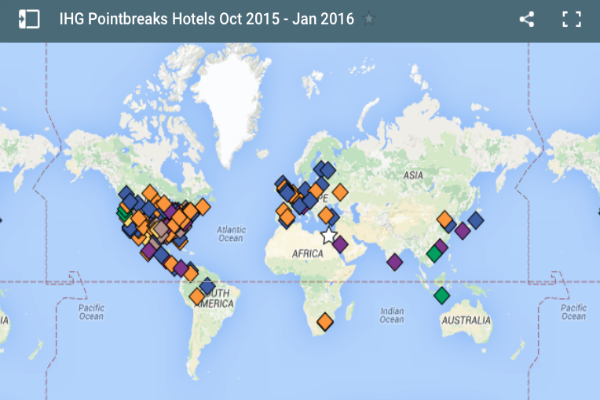 United States
Crowne Plaza Southbury (Connecticut)
Crowne Plaza Springfield (Illinois)
Hotel Indigo Columbus Architectural Center (Indiana)
Crowne Plaza Kansas City – Overland Park (Kansas)
Crowne Plaza Pittsfield-Berkshires (Massachusetts)
Crowne Plaza Grand Rapids Airport (Michigan)
Crowne Plaza Edison (New Jersey)
Crowne Plaza Cleveland Airport (Ohio)
Crowne Plaza Philadelphia-Bucks County (Pennsylvania)
Crowne Plaza Memphis East (Tennessee)
Crowne Plaza Hampton-Marina (Virginia)
Crowne Plaza Milwaukee Airport (Wisconsin)
North and Central America
Europe, Asia, and the Middle East
Crowne Plaza Padova (Italy)
Crowne Plaza Heythrop Park Oxford (United Kingdom)
InterContinental Cairo Semiramis (Egypt)
Crowne Plaza Madinah (South Africa)
Crowne Plaza Chennai Adyar Park (India)
Crowne Plaza Kumamoto New Sky (Japan)
Crowne Plaza Shenzhen Longgang City Centre (China)
As usual, you can get IHG points by transferring them from Ultimate Rewards, using the Points & Cash trick, or simply buying them. Keep in mind that Ultimate Rewards transfers to IHG Rewards Club can take a day to post. If you're worried about a hotel on the PointBreaks list selling out before you have a chance to book it, then you might want to buy them or see if you can get a friend or family member with a decent balance to lend you the points for the time being. 
Do you plan on booking any of this quarter's IHG PointBreaks hotels?
Subscribe to Blog via Email