A great perk of Hyatt's Platinum and Diamond membership is a 20% discount on the daily rate at participating properties, a discount that in my experience sometimes goes as high as 35% (example: See June rates at the Park Hyatt Sydney). If you're one of those people who will get status by completing 25 stays/50 nights in a year, this discount will amount to a great deal of savings. I got Diamond status after completing 12 nights as part of the Diamond Challenge, but the discount has been pretty useful so far.
I work from home, but once a month I head down to the office an spend two nights at an LAX hotel. Hotels by the airport are awful as it is, but the one next to the office building is definitely on the low end of the spectrum. However, it is close to work and the company I work for gets a corporate discount that brings the rate down by about 20%. I've been angling to arrange a corporate discount at the Hyatt Place LAX, but their sales team is about as flaky and evasive as they come, so that has yet to happen. Their rack rates, which top $300 per night, are way above what my company is willing to pay, so I thought the My Elite rate might be a viable alternative.
To qualify for this rate, you need to be a Hyatt Platinum or Diamond member. Once you're logged in, simply search for the city/hotel of your choice. Check for the "My Elite Rate" tab. In the example above, it's simple to spot since there are just two types of rates available (Elite and Rack). However, at some hotels there may be 4+ types of rates, so be on the lookout for the My Elite tab.
In my case I lucked out because the $209 nightly rate was discounted to $167 per night, which is cheaper than the hotel where my company usually puts me up. I got a great rate at a better hotel and I'm closer to re-qualifying for Hyatt Diamond next year.
One thing to keep in mind if your search isn't turning up the My Elite rate on a multiple night stay: Search each night separately. For my recent stay I needed a room for two nights. The My Elite rate was available on the first night, but not the second. When I searched for both nights together, only the non-elite rate appeared. Once I figured this out, I booked the two nights separately in order to get the discounted My Elite rate on at least part of the stay.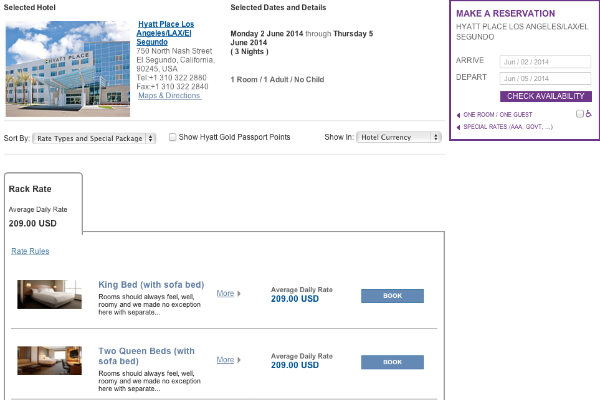 It may seem inconvenient having to book these reservations separately, but this is beneficial for several reasons:
1. Part of your stay is substantially discounted.
2. If you're shopping through a cash back portal like TopCashBack, which currently pays out 3% cash back, you will not earn cash back on My Elite rates. So booking separate stays saves you money in more than one way.
Thoughts, comments, questions about Hyatt's My Elite rate?
Subscribe via email for more points, miles and free travel