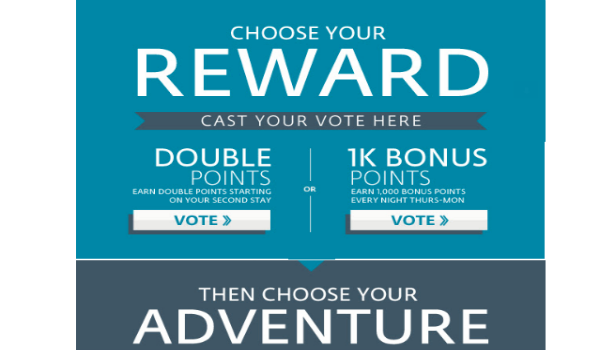 I got an email from Hilton today, asking members to vote for the year-end Hilton HHonors promotion. I scrolled down and saw the options were Double Points starting on your second stay or 1,000 Bonus Points every night Thursday through Monday.
So which option should you vote for? If you're a standard member, you're earning 10 HHonors points per $1 and an additional 5 points if you choose the Points + Points earning option. Usually with double points promotions, you only earn double base points. So with this promotion, you would earn 25 points per $1 spent. On a stay falling between Thursday – Monday, you'd be better off with the 1,000 point bonus if your nightly rate is less than $40. 
Barring a mistake rate, most of us would be paying well over $40 per night for a Hilton hotel stay, so the double points promotion is by far the most lucrative option. Be sure to cast your vote for the promotion you think would be best, regardless of whether you think you'll stay at a Hilton Hotel or not. It's worth mentioning that when I voted, I got a got a notice stating that as a HHonors Gold member, my vote would count three times. I imagine Diamond and perhaps Silver members will also earn multiple votes.
The winning promotion will begin on November 1, 2014 though I imagine they'll announce it a few weeks before since they're creating a bit of an event out of the voting process.
Which promotion will you be voting for?
Subscribe via email for more points, miles and free travel