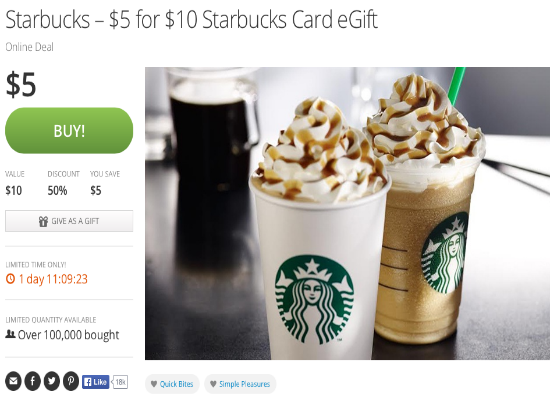 Groupon is running a promotion after my own heart: $10 Starbucks e-giftcards for $5. As of this writing, there is an entire day and 11 hours left to take advantage of this promotion. Groupon is tagging this promotion with the line "A special thank you from Groupon: Buy a $5 Starbucks Card eGift. We'll make it $10." If that's the case, then their entire website is one big "thank you" to their customers, but I digress. What does Starbucks have to do with points, miles, and free travel? They have a rewards program and when I save on my daily Starbucks habit, that leaves more cash for travel.
Anyway, if you don't have a Groupon account and want to use my referral link, we'll both get $10 after you buy your first deal of $10 or more. Pass your own link along to friends/family and earn rewards yourself – feel free to include your links in the comment section as well.
Now for a bit of a downer: Earlier this week I was at a Starbucks when a peculiar email popped up: A message from Starbucks confirming that $100 had "auto reloaded" onto my account. This was odd, considering I had $8 left on my card, not to mention I never set my card to auto reload $100. I checked my Starbucks app and sure enough, it showed a balance of $108. Then I received another email confirming yet another $100 reload. I checked the app and it showed a balance of $8.
I called Starbucks and the rep confirmed that somebody had hacked into my account, used the credit card on file to reload my account three times and then transferred the balance over to another card. It was done so quickly that by the time I got the second email, all the funds had already been transferred out. They closed my card and promised to send me a new one, but in the mean time I could pick up another card and register it to get my balance back. So this promotion is perfect timing, since I was pretty annoyed at this security breach and how long it took to fix things (I still have a pending claim with Chase to get the charges reversed). So thank you, Groupon for the $5 gift. Considering I had $5 in credit on my account, the grand total for this $10 gift card came up to $0.
Subscribe via email for more points, miles and free travel