Update: As of 2/4/13, the Oakland CVS I shared with you all no longer accepts credit cards as a payment for VR's.
I hate to write the millionth post about Vanilla Reloads, but I know that many Bay Area residents have had a tough time finding a store that lets them buy these with a credit card. I've called stores far and wide. Recently, Miles, Points, and Mai Tais was kind enough to share her source with me, in an area that isn't close by, but one I do visit from time to time.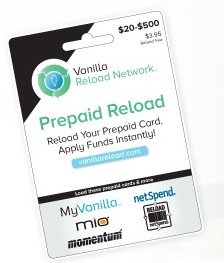 What I overlooked during my search was a CVS store a block away from my job. To say I frequent this place is an understatement: Any time things get slow around work, my friend and I go for a walk to CVS – to stock up on snacks, supplies, or just to get a break. I do remember asking several times if I could buy Moneypaks or giftcards with a credit card – "Cash only." This wasn't really a problem, since I found a RiteAid nearby that let's me buy fee-free Moneypacks with a debit card. Still, I have really grown to hate that phrase!
Today I went there yet again and noticed the Vanilla Reloads behind the register for the first time. Bracing myself for the inevitable, "Cash only" response, I asked if I could buy those with a credit card. The cashier thought for a second and replied, "Yes. You can buy them with cash or a credit card, but not with a giftcard." Strange, but ok! I went back to my desk to grab my Sapphire card. This time I was helped by a different cashier, one that sees me there all the time. I asked for two Vanilla Reloads and he picked them up and began ringing me up. When it came time to pay, he actually asked for my ID. This threw me off, since he has never requested my ID before. I didn't have my license and offered my employee ID, which he couldn't accept. So I trekked back to the office, grabbed my ID, and came back.
Remembering what the previous cashier said about gift cards, I asked if I could pay with a prepaid card. He seemed unsure: "It has to be cash or credit only, but…let me go ask." I began kicking myself as the cashier walked over to the manager standing nearby.  Why did I have to ask?!?! Thankfully, he returned and said those magic words, "You have to pay with cash or credit only." Huge relief. I picked up two reloads and had to resist the urge to hug the cashier for making my day. This particular CVS store is very well stocked and it actually looked like I bought the first batch of cards this week. If you're interested in the location, please comment below and I will email it to you.
Subscribe via email for more points, miles and free travel