This hobby can breed greed and selfishness sometimes. I'm certainly among those who might go a little too far when it comes to earning points and miles, but I do try to think of others – whether it comes to redeeming my points and miles or doing my part to preserve deals so other people can benefit from them in the long run as well. However, some of the methods we utilize to earn points and miles are only advantageous to us. Gift card sales aren't particularly profitable for drug stores. While credit card companies rake in processing fees, they still have to buy miles from the airlines. These are merely observations – I'm not selfless enough to give this hobby up because some corporate giant might not profit from it. 
However, sometimes (mainly when it's pointed out to me by others), I think about whether my time could be better spent doing something more productive or beneficial for the greater good. If you're in the same boat as me, you can feel less guilty. Now there's a way to manufacture spend while also contributing to a good cause – and it doesn't involve giving up your miles. During a trip to a newly opened CVS store, I came across these specially branded PIN-enabled gift cards. They're Vanilla MasterCard Priceless Causes gift cards, available in $20 – $500 increments.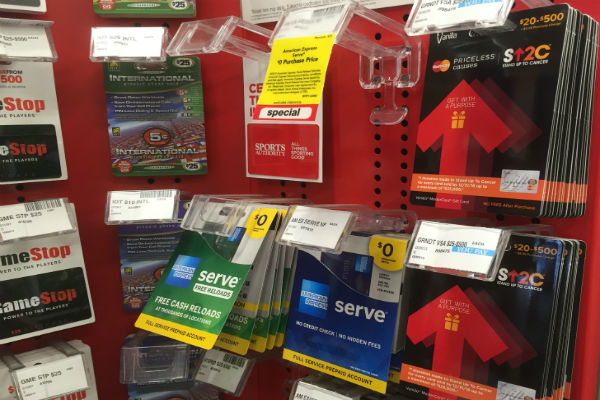 These gift cards carry the same $4.95 fee as Vanilla Visa gift cards do and for each one that is sold, CVS will donate $1 to Stand up to Cancer. This fundraising effort will continue until December 16, 2016 and the maximum donation is capped at $25,000. Try as I might, I'm not going to be able to purchase 25,000 Vanilla MasterCard Priceless Causes gift cards. But I'm sure between all the gift card churners out there, we'll easily reach that number. So the next time you're at your local CVS store, look out for the Vanilla MasterCard Priceless Causes gift cards. They can be unloaded in the same manner as Vanilla Visa gift cards. Best of all, $1 of your purchase gets donated to a good cause.
Up until this point, I had never purchased Vanilla gift cards issued by MasterCard before, so I initially only picked up two cards. This way, if I had trouble unloading them via Redbird, I could still get rid of them by paying household bills. Lately, cashiers have asked me what my payment form is and backed off when I said I was using debit. In my defense, the Vanilla Visa gift cards do have "debit" written on them. I've also heard reports from readers who've been told they can't use gift cards.
I was prepared for the possibility of that happening when I handed the gift cards to my brother. Thankfully, that wasn't the case. He had no problems using both cards (along with three Vanilla Visa debit cards) to reload Redbird. So now that we're clear (for the time being) to use Vanilla MasterCard gift cards for Redbird loads, I'm going to keep buying them and feel good knowing my quest to earn millions of frequent flyer miles isn't entirely self-indulgent.
Have Vanilla MasterCard Priceless Causes gift cards popped up at your local drug store? Are you going to start incorporating them into your manufactured spending strategy?
Subscribe to Blog via Email