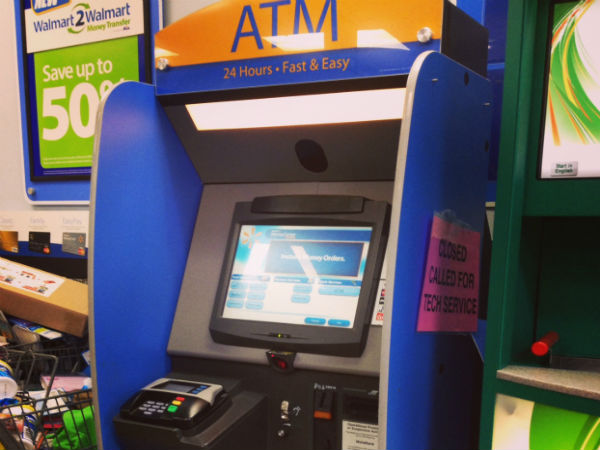 This weekend I spent more time than I had intended to, hopping from one Walmart to another. My objective was to unload that batch of $4,000+ Visa gift cards I purchased from Staples.com, so I ended up visiting Walmart three days in a row. It wasn't so bad on Friday, when I found a working Bluebird ATM for literally the first time at that store.
The money order function worked fine, but I wasn't able to use the kiosk to load the Visa gift cards onto Bluebird, so I headed to the cash register and it worked fine. Following all those complaints about issues with unloading Visa gift cards, I was initially worried, but glad it had turned out ok.
The next day, at a Neighborhood Walmart, I got a "card type not accepted" message when I tried to do a load at the register. The cashier let me swipe the card myself without looking at it, so no red flags raised here. When the message popped up a second time, I was freaked out over how I would liquidate $4,300 worth of gift cards, but decided to give it another shot.
The next day I headed to a third Walmart store in my area. This one usually has a working Bluebird kiosk, though the last time I was there, it was down. This is also the store where I was prevented from buying money orders with a Visa gift card, so if the kiosk didn't work, I knew I would be screwed. What ensured was a long, drawn out, cluster****. It ended well, but I'll be damned if I ever try to unload $4,300 in mostly $200 increments again.
The trick, I discovered, is to load $199.99 of the $200 gift cards. First, I unloaded the full $500 from a Visa card I picked up at Safeway. No problems there. When I tried to load the $200 card purchased from Staples.com, I got a message saying, "card type not accepted." However, $199.99 went through every time. When I hit close to the $1,000 maximum on all three Bluebird cards, it was time to switch to money orders.
The machine lets you buy money orders in increments of up to $500 and the fee at this location was a reasonable $0.55. Taking this fee into account, I tried purchasing a money order for $199.45 (which would come to $200 with the $0.55 fee). I got a "card type not accepted" message. However, $199 (plus the $0.55 fee) went through just fine. Now I have a bunch of Visa gift cards with $0.45 balances on them, but I prefer that over having $4,000+ in gift cards I can't liquidate.
At the end of those 45 minutes spent at Walmart (part of it was spent standing in line to buy money orders with my Alaska Airlines debit card for legitimate reasons), I was pretty beat. If you're a masochist who's had trouble unloading $200 Visa gift cards at Walmart, follow these tips:
If you purchased your GCM Visa gift card at a store rather than online, you can load the full balance onto Bluebird.

If you purchased your CGM Visa gift card online, load $0.01 less than the gift card balance.

If you're using your GCM Visa gift card to buy a money order at the Bluebird kiosk, keep your purchase at under $1 to be safe.
It took a lot of experimenting until I got the gift card to go through for money order purchases, so I didn't try this, but you may be able to get away with unloading the same value as you would with Bluebird. With so many cards to unload, I really didn't have time to keep trying.
Have you had issues unloading your Visa gift cards lately?
Subscribe via email for more points, miles and free travel