I just got back from Chicago, where I attended the annual Chicago Seminars. I only attended the event for a day, since I was in town with my sister and we ended up staying in the city most of the time. It was still fun and I got to reconnect with friends and meet some readers. I felt bad because while I was talking to my friend Christine, a few people were standing nearby, waiting to talk to me. We were wrapped up in work talk and by the time it was over, a few of those people had left. I felt very bad and didn't mean to ignore anyone. I also want to say thanks to the folks who came up and said hi – you're all a really nice bunch and I appreciate your support!
There were even a few Bay Area readers in the midst and they echoed something that comes up quite a bit via email: When is the next points and miles meetup? It kind of slipped my mind to have one at the Chicago Seminars, which would have been perfect since there were folks from all over the country and it would have made for a really interesting conversation. I have been meaning to hold another one before the end of the year, since it went so well last time. If my friend Kendra is up for co-hosting it, that would be great. Realistically, though, I think it will have to wait until January.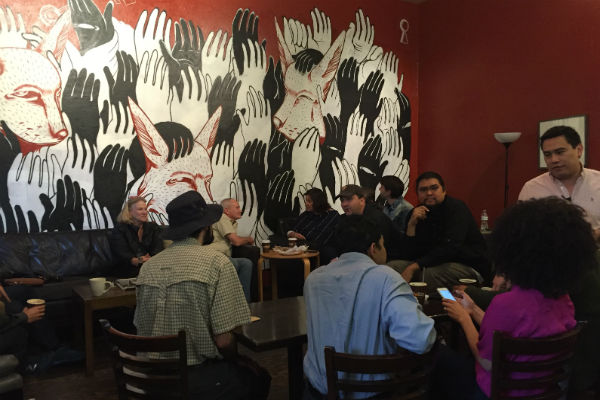 I did have an idea that I wanted to run past everybody before announcing any kind of gathering. Last time, things went really well but there were a couple of folks I didn't get to because the crowd got larger than expected. So I was considering organizing several different meet-ups and limiting them to 8-10 people. We'd implement a sort of ticket system: You make a donation (maybe $25 – $30) to a specified charity and in exchange you get to attend one of these events.
What we do in this hobby is great in so many ways, but there is an aspect of it that is very self-serving – both for bloggers and regular hobbyists alike. So why not put all of this passion for points, miles, and travel towards a good cause? Rick and Howie donate the profits from the Chicago Seminars to charity every year, so I thought we could replicate that here.
We would hold these meet-ups in the Bay Area (around Berkeley, Fremont, maybe Richmond) as well as the Sacramento/Davis area. I'd like your feedback about all this: Would you be willing to make a tax-deductible donation to charity to attend a points and miles meetup? What is a price point you can afford? Where would you like to see a reader meetup scheduled?
Subscribe to Blog via Email