Yesterday, I wrote about Club1 Hotels and their free 1-year membership offer for readers. To recap, Club1 Hotels is a members-only website that offers incredible savings on hotel bookings. I've found over 50% savings on hotel rates through their website. The reason they're able to do this is because rather than getting a commission, they make their money by charging a $675 membership fee (which, again, they're offering free for a year). In any case, I thought it was worth writing a separate post about the travel deals available through Club1 Hotels.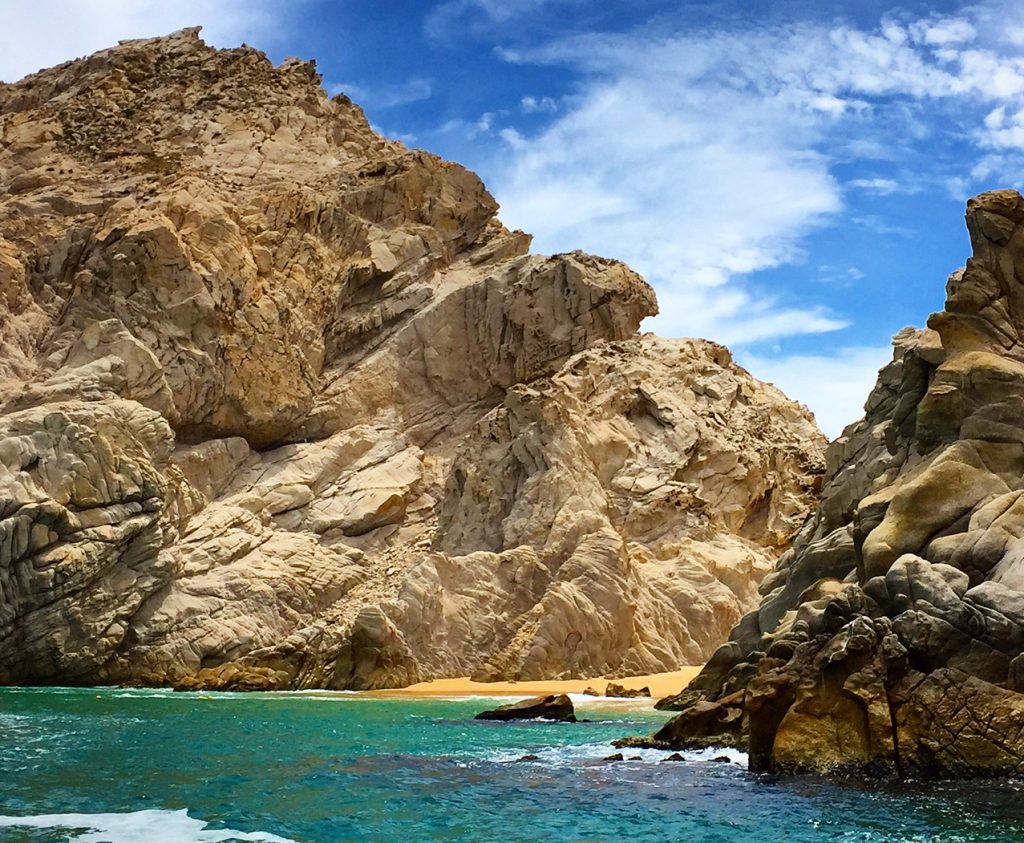 I've been thinking of booking a trip to Cabo or Cancun around Thanksgiving. This turned out to serve as a great example for potential savings.
Discounted Rates at the Hyatt Ziva Los Cabos 
I stayed at the Hyatt Ziva Los Cabos back in March and absolutely loved it. It's an all-inclusive resort that requires 20,000 points per night, though there are some cheaper ways to book the resort without points. I searched Club1 Hotels for availability on November 22 – 26. Club Ocean View rooms came up at just $1,085.61 total, including taxes and fees: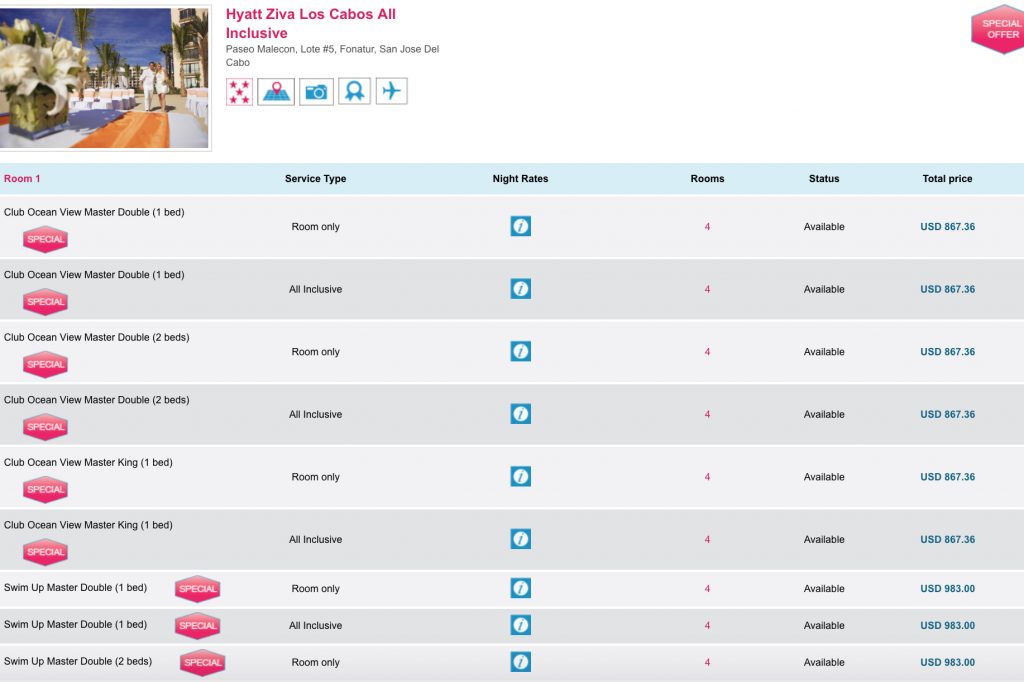 Not only is this an incredible deal at $271.40 per night, but the same room was going for $480 per night on the Hyatt website. Booking through Club1 Hotels would save me over $800 on a 4-night stay.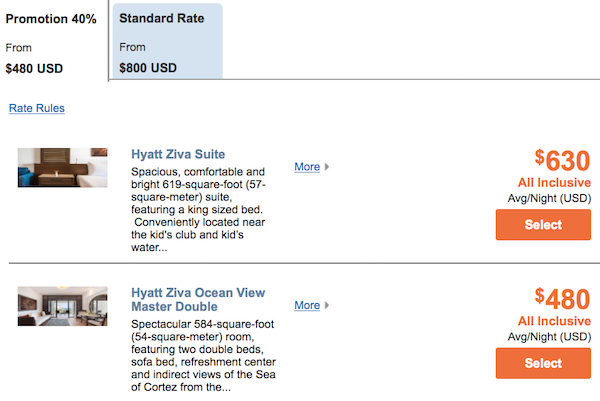 If a standard room doesn't cut it for you, Club1 Hotels offers even more savings on swim-up rooms. These rooms are ideal for families who want to be able to lounge by the pool without worrying about leaving their napping children in the room alone. Club1 rates for a 4-night stay in a swim-up room at the Hyatt Ziva Los Cabos are $1,230.33 with taxes and fees.
Meanwhile, the Hyatt Ziva Los Cabos website sells the same room for $2,856. By booking through Club1, you'll save over 56% on a swim-up room. If you decide to keep your membership past the first year, savings like these can easily off-set the $675 membership fee.
Hotel bookings aren't the only place where Club1 Hotels offers amazing deals…
Discounted Rates at the Hyatt Ziva Cancun 
At the Hyatt Ziva Cancun, which has higher paid rates than the Ziva Los Cabos and requires 25,000 Hyatt points per night, the savings were even more substantial. On November 22 – 26, the Hyatt website only has one room type available: The Turquoise Sky Oceanfront Master King room, which costs $2,612 for four nights.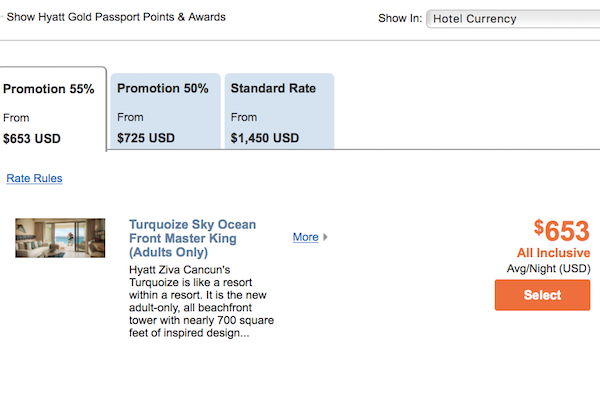 Meanwhile, Club1 Hotels has that same room available for $1,904.89 with taxes included. Not only that, but Club1 even has standard rooms available for $1,134.50 total. The best part about this is that Hyatt hotels booked through Club1 do qualify for elite benefits. At all-inclusive hotels, this translates to possible room upgrades, the ability to make reservations at the various on-site restaurants, along with discounted spa treatments and cabana rentals.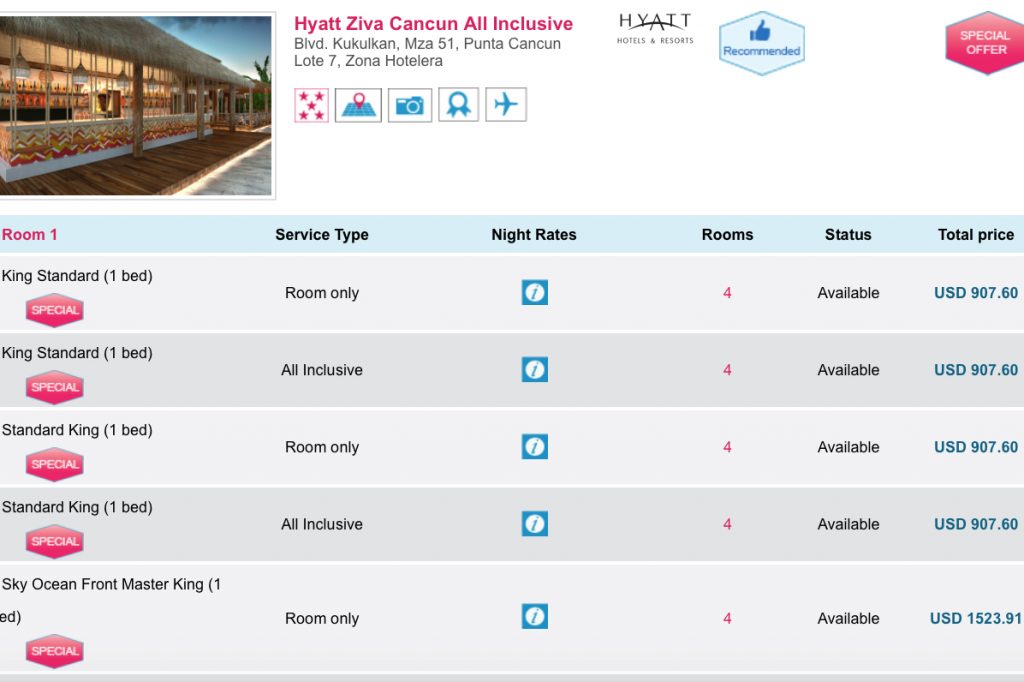 Discounted Tours and Activities Through Club1 Hotels
One of the most expensive aspects of a trip, but one that is an important part of the overall experience, are tours and activities. Club1 has some great deals on everything from transportation to premium city tours. For example, in Los Cabos, shared transportation from the airport to the hotel is usually around $15 per person one-way. Club1 Hotels has this service available starting at $6.67 per person. The same goes for Cancun – shared airport transfers start at just $5.56 per person!
I found lots of other amazing deals in popular tourist destinations around the world. In Dubai, there's a company called Seawings that offers seaplane tours of the city. A Seawings Silver Tour package, which provides a 40 minute tour of Dubai's most famous sights, costs 1,695 AED or $461 when booked directly with the tour operator. Meanwhile, Club1 offers the same tour for $358.93.
Folks who travel to Southern California will appreciate saving $12.47 on a 1-day GO Los Angeles Pass, or up to $25 on Universal Studio Hollywood tickets.
Club1 GO Los Angeles Pass (1-day) = $66.53

GO Los Angeles Pass website price = $79

Club1 Universal Studios Hollywood tickets (1-day) = $83.25

Universal Studios Hollywood website price = $105-$110
These are just a few examples of the huge savings offered by Club1 Hotels on hotels bookings  amusement park tickets, and tour packages. Be sure to check out Club1 Hotels for yourself by signing up for a free 1-year membership. It's absolutely worth checking the site before booking through any other channel, since the savings can be substantially higher.
While you're at it, be sure to enter the $150 giveaway by leaving a comment on yesterday's post, letting me know at which hotel you'd like to put the credit to use.
I'd love your feedback: What kind of deals have you been finding on the Club1 Hotels website?
Subscribe to Blog via Email